How can RPO help a business undergoing reorganization?
September 30, 2021
The business world is continually changing and the ability to evolve is critical. Companies that can adapt to changing market conditions have a competitive advantage to those that don't. Fact. And that's why so many companies undergo reorganization.
Why do companies undergo reorganization?
Businesses undergo change and reorganization for many reasons. For some, it's because they're about to go through a merger or acquisition, while for others it could follow a corporate spin-off, to help with a period of expansion or in response to changing market conditions. The term reorganization is subjective though. What one business would class as a reorganization might differ to another. The goals, however, are the same: to boost performance, innovation and, ultimately, the bottom line.
Let's look at each type of reorganization mentioned above and how RPO can help in these situations:
Mergers and acquisitions (M&A): Employee retention can be challenging at the best of times, and at the moment, it's a major concern. It's not hard to see why when you consider 52% of employees intend to look for a new job this year, according to the 2021 Engagement and Retention Report from Achievers Workforce Institute. And this is without the added pressures associated with M&A. The loss of talent is one of the key risks with a merger and/or acquisition – attrition levels tend to spike following M&A, with reports suggesting up to 20% of employees will voluntarily leave a company within two years after an announcement of a merger. So, why do employees leave? There are numerous reasons, but the most common is the fear of the unknown and resistance to change. Employees wonder how their roles will change, whether the culture will be impacted and if this means they will lose some of the control they have. RPO partners can help you boost your employer brand strategy and strengthen your employer brand to ensure it still aligns with your employee value proposition (EVP). If it doesn't (and quite often that's the case following a merger or acquisition, as two brands and cultures come together), RPO partners will devise a plan to update it. Losing trust in leadership is another reason why people leave following a merger or acquisition. And if layoffs are made, some feel survivor guilt when they see their colleagues leave, which can have a detrimental impact on both culture and attrition. Another reason employees might decide to jump ship is because competitors often use the opportunity to target key talent. They know that times of transition can evoke feelings of uncertainty among employees and view it as an ideal opportunity to poach talent.
Corporate spin-off: When a company undergoes a corporate spin-off, it typically splits parts of its company from the main organization and that becomes a standalone firm. Talent acquisition, as a result, can be impacted heavily. Sometimes, the entire talent acquisition team stays with the parent company, so one of the first tasks would be to build a talent function. And this is where outsourcing can help. For example, RPO providers ensure you have the right people, processes and talent acquisition technology in place to attract, hire and retain the talent needed to take the new company forward. One of the main benefits to outsourcing talent is that it gives HR the opportunity to concentrate on other strategic initiatives. The impact RPO can have on boosting employment branding is something that can also really benefit companies that have recently completed a spin-off. Pro tip: If you're planning a corporate spin-off, conduct an employer branding audit on your existing brand. This will give you the opportunity to consider your positioning to consumers and employees alike and show where changes need to be made. If you don't have the resources in-house to do this, an RPO provider can help.
Case study: WilsonHCG partnered with a global leader in heating, air-conditioning and refrigeration solutions to consult on workforce planning, while developing a cohesive strategy that blended RPO and executive search solutions to identify, attract, hire and relocate hundreds of critical requisitions, following a corporate spin-off. The team also led a digital transformation program project to help the company reimagine the IT and digital infrastructure of the newly formed organization. In terms of businesses impact, 100% of the requisitions were filled in North America and EMEA well within the designated timeframes. The project saved the newly formed organization around $1.5 million and it helped to contribute to a 230% rise in the company's stock price.
Period of expansion: Whether it's expanding into new geographical markets or growing headcount to keep up with organic growth, expansion is a natural part of the business cycle. If your company is planning to expand overseas, local market knowledge is something that's required. You must understand the areas you're planning to move into, whether there is access to talent, the nuances of local employment laws and what candidates in the region expect from a job. Having a strong grasp of candidate expectations and cultural nuances is a must. This is something RPOs have extensive experience in gathering to prepare for a client engagement. Through market research and experience recruiting the region, they know the ins and outs of candidate expectations and what platforms they're most likely to be active on, for example. Market-mapping can determine if there's enough talent in a given area, while talent pipelines (which deliver qualified candidates into either talent pools or talent communities) ensure you have consistent access to a qualified stream of candidates.
Reorganization: Getting started
Is your company planning a reorganization? If yes, do you have the talent you need to successfully plan and execute this endeavor? If you don't have the right talent in place, you should start sourcing. By having the changemakers in place, you will be able to better understand the risks associated with a reorganization (or period of change).
Change management: Are you prepared?
Change management plays an integral role in the reorganization process; it's one of the most important aspects. If done well, change management can make a real difference in ensuring the transition runs smoothly. If your company is planning its first-ever reorganization, consider getting specialist help in. We talked about the importance of having the talent in place to support a successful reorganization and the same thing applies to change management. If you don't have access to someone with those skills, recruitment process outsourcing (RPOs) can be a solution for managing change when it comes to the talent organization. Why? Because RPOs are accustomed to leading their clients through the phases of change associated with bringing a third-party partner in to manage an aspect of their business. RPOs know that managing the expectations of key stakeholders when starting a new outsourcing partnership is critical for successful change management.
How does an RPO manage change?
RPO providers build change management protocols and communication plans to manage the reorganization. They'll engage with all your key stakeholders so they know what will change and when, as well as the impact this will have on them and their teams. In addition, RPO providers develop training materials including email templates, sample communication material, reference guides and so on, to make it easier for their clients to manage the transition. RPOs will also arrange regular feedback sessions with key stakeholders to review the change management process and determine if any adjustments or improvements can be made.
RPOs typically split their approach to change management into key stages. We've outlined these below so you can use it as a guide to create your own change management plan:
Define the audience and key messages for engagement and communications
Develop change impact across all service areas
Draft and issue proposed formal communications
Sponsor and deploy communication strategy
Identify a change agent network to help communicate change and report back on message adoption

[Blog post] Getting executive buy-in for RPO
How do I mitigate the risk of losing talent during a reorganization?
There are several things you can do in an effort to retain talent during a reorganization, including:
Over-communicate: Put simply, most people aren't comfortable with change. You need to over-communicate to let your employees know what's coming next. Another thing to remember is that reductions in headcount are common following an acquisition. Therefore, if your company has bought another one and is planning to reduce its headcount, communicate this. Do it early and be as transparent as possible to reduce anxiety among your workforce. Be open to questions and ready to answer the variety of them that are bound to come up. And don't forget to tell your remaining employees why the merger or acquisition took place and why some redundancies may occur. Explain the benefits of the reorganization so they can be excited what's coming next.
Time it right: Employees will get jittery if they think their roles are at risk and they haven't heard anything about a plan yet. So be sure you're balancing making thoughtful decisions with sharing the way forward as quickly as possible. Additionally, if you're trying to identify additional talent you need, be just as speedy getting back to your talent pipeline. Ghosting has grown in popularity among job seekers over the past year, with 28% admitting they've ghosted an employer, up from only 18% in 2019, a survey from Indeed found.
Consider retention bonuses: Although retention bonuses do impact integration costs, they can help to keep people onboard. If your company has talent with a niche skillset, it may be something you need to think about, especially if there are employees who your company simply couldn't do without.
Provide a better work-life balance: We already know that employees who feel supported and like they belong are happier and more productive in the workplace, but there's been an increased focus on work-life balance of late. This isn't surprising as the pandemic gave people a chance to reflect on what's important to them. A recent report revealed the No.1 reason for staying in a role was work-life balance (at 23%), followed by recognition (at 21%) according to research from the Achievers Workforce Institute. What's the work-life balance like at your company? Most importantly, what do your employees think? It's simple: Ask them. Conduct pulse surveys and do so regularly. If the results show your employees don't think it's up to scratch, start putting boundaries in place. (Providing a good work-life balance won't just help with retention, but also attraction.)
Two-thirds (66%) of employees would be more engaged at work if employers improved company culture, while more than half (52%) would be more engaged if their employer improved its diversity and inclusion, research from the Achievers Workforce Institute revealed.
How outsourcing talent acquisition can help with reorganization
Enterprises often partner with RPO providers if they're planning a reorganization program. Whether that be because of a merger or acquisition, expansion or change management – there are many advantages associated with outsourcing.
What are the main benefits of outsourcing recruitment ?
RPO providers show their effectiveness through their results. And we don't mean by the number of roles filled. Some of the benefits of outsourcing recruitment includes the reduction in time to fill, the improvements in candidate quality, the decrease in cost per hire, the ability to scale up or down, a rise in diverse candidates, the ability to understand new markets and the regional nuances (which is particularly beneficial if a company has acquired employees through M&A or plan to expand and recruit in a new region).
Technology consulting is another key advantage. RPOs can help companies to streamline or consolidate talent acquisition technology they've inherited through a merger or acquisition. They can also advise on which technology would help to scale and/or fuel growth if supporting a corporate spin-off, for example.
Recruitment process outsourcing can also help talent leaders connect HR metrics to bottom line impact. There are so many HR and recruiting metrics out there that it can be overwhelming. An RPO partner will help you define the key talent and HR metrics you should be tracking and why, especially as it relates to the goals of your newly reorganized company. In short, they'll use metrics to not only guide future strategy, but to elevate the strategic value of your talent function.
Read more:
[Whitepaper] Recruiting metrics you should be tracking
Continuous improvement is a core element of any talent acquisition outsourcing program. RPOs gather swathes of data and then analyze it to show where improvements can be made. In addition, talent outsourcings firms collect feedback from all parties regularly on what's going well and what's not. By telling the story of talent acquisition, they can better determine if strategies need to pivot.
Top tip: If you're thinking about RPO, make sure you ask for details on how the talent solutions will be tailored to meet your individual needs. No business is the same, so no RPO partnership is as a result.
To summarize, RPO covers all aspects of hiring, from the attraction phase to onboarding and uses the latest talent acquisition technology and innovative processes. RPO teams optimize the entire talent function. Unlike staffing, RPO comes with a lot of value add from employment branding; diversity, equity, inclusion and belonging (DEIB); technology consulting; and internal mobility, for example.
The benefits of a total talent approach for a company undergoing a reorganization
When considering all your talent options, a total talent approach might further benefit a company undergoing reorganization. In simple terms, total talent programs centralize the hiring for all employees regardless of whether they are full-time, part-time, temporary or contingent. And for an organization that is merging talent programs, determining how they should all operate cohesively.
More and more companies are integrating permanent and contingent talent acquisition, so it operates as one. And given the use of contingent workers is set to rise, this trend is likely to continue. Almost three-quarters (71%) of organizations expect the use of contingent labor to increase in the next 12 to 18 months, research from Everest Group has indicated. Taking a total talent approach now, which requires looking at strategic workforce planning, employment branding and DEIB will ensure transparency and visibility across the entire workforce. This helps you, as a talent acquisition leader, to better inform strategy while improving business decisions and outcomes.
Want to learn more about how to integrate your contingent strategy into a total talent program? Check out this blog post.

The ever-changing employment landscape is causing chaos for some companies, as they struggle to attract, hire and retain talent. The disruption, which is caused by record job openings, changing candidate expectations, rising inflation, high turnover and more, shows no sign of abating. If you're planning a reorganization, consider a talent outsourcing partner to ensure you have the talent in place not just for today, but tomorrow.
Related articles:
Contract workforce "critical for success" in new world of work
Uncertainty drives total talent Programs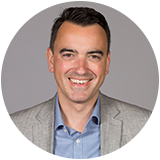 As Senior Vice President, Global Strategic Talent Solutions, Craig leads WilsonHCG's growth strategy and new partnership cultivation across the globe. Alongside the trusted consultants at WilsonHCG, he builds market-leading, scalable and customisable RPO solutions. Craig's relationships span all industry verticals and geographies with expertise in Technology, Business Services, Financial Services, Engineering, Manufacturing, Retail, and Media.
Related Resources