Getting executive buy-in for RPO
March 3, 2021
You know the benefits of recruitment process outsourcing (RPO). You know how RPO's partnered approach solves talent challenges and needs. But knowing the benefits of having an RPO provider is only half the battle; the rest lies in getting executive buy-in.
Why is executive buy-in important?
Having executives aligned to your RPO partnership ensures the proper budget and resources are allocated to current and future talent and organizational needs. To get buy-in for a strategic partnership, it's important to consider key priorities and weave that value into executive-level initiatives. RPO is more than just hiring talent, which may be perceived as a cost in the eyes of an executive. The wider business impact from hiring the right talent will create positive change over the long term that far outweigh the immediate cost.
Read more about the four essential traits of today's executive
Common objections about RPO
While hiring is the ultimate objective, it's only one part of what recruitment process outsourcing firms deliver. It's quite common an executive's concerns may be centered around the day-to-day duties of an RPO provider and the "what ifs" around reaching hiring goals.
It's important to note that at the beginning of every relationship, RPO providers establish infrastructure to ensure uncertainties are proactively discussed. Service-level agreements (SLAs) and key performance indicators (KPIs) are mutually agreed upon so both parties are satisfied. Then, moving forward, updates and reports are communicated regularly with the KPIs that matter most to executives. That's the beauty of an RPO partnership – it includes strategic advice and quality adjustments being made over time versus transactionally filling vacant seats. Relaying this, as well as the flexibility to quickly adapt to changes and resources, can be especially reassuring and helpful to quell any objections being made.
Now, here are the specifics and how you can present these benefits:
How to present recruitment process outsourcing benefits to executives
As HR and talent leaders, you inherently know the value of a good hire for your company, but relaying those facts to higher-ups may seem intimidating. It doesn't have to be. Contextualizing these benefits from an RPO provider with the adage "work smarter, not harder," you can form the long-term value in an ever-evolving industry. That way, you can get quick wins that add up to bigger impacts across your company and its KPIs.
#1: Present areas of opportunity with data
Saying "RPO would be nice" doesn't clearly communicate the driving need and value an RPO provider can provide for your company. Instead, aggregate data around hires that were performed internally over the last year, and see if an RPO provider will map out projections on how this could be improved by working together. You'll be able to objectively present how gaining a recruitment partner can drive positive change and present opportunities for the future.
An area of opportunity advantageous to an executive is reducing time to hire. According to the RPOA, time to hire is typically reduced from 25 to 55%, depending on the quality and expertise alignment.
Consider this and other stats around RPO as you make your case:
Image text:
A 38% improvement in year-over-year hiring costs (NelsonHall)
69% of employees hired in an RPO program are considered highly engaged (NelsonHall)
Tip: Case studies are a great way to relay real-world experiences, and the results therein, to executives. Aggregating that data, and gathering what it took to get there, will help you achieve buy-in.
#2: Solve sourcing challenges
Positioning RPO as a holistic solution to source critical talent fuels buy-in. This is especially true given the skills gap that's continued to widen over the years. Because of this gap, for most leaders sourcing talent is a top agenda item for the year with no signs of stopping. Presenting flexible recruitment resources through a provider acts as a salve to the goal of filling seats and hitting KPIs in a timely manner. This is especially pertinent in industries such as healthcare and pharmaceuticals, where specific skill sets are needed immediately.
RPOs have added agility and utilize sourcing channels understaffed talent acquisition (TA) functions may not have capacity to seek out. This, when comparing the time it takes to hire a full team of employees, can be especially effective when an executive is seeking to solve more immediate or near-term talent needs.
The pandemic has aggravated the agility of sourcing. However, this reinforces the inherent value of a long-term partner with higher goals and initiatives over time. The best of these worlds – increased capability and sophistication of depth and flexibility – is achievable with RPO. The ability to customize goals, scale up or down, has a huge advantage for companies that need a competitive edge through talent.
#3: Do a cultural alignment temperature check
To gain further buy-in, assess your organization and be sure your company is prepared to be in the business of people. If executives don't see people as the most important aspect of what they do, there may be operational snags when working with an RPO provider.
Cultural alignment between a provider and a C-suite is difficult without reaching this understanding early on. A readiness to invest in people – not a quick low-cost solution – is vital to having a successful partnership. Having deep industry expertise, helping with employee value propositions (EVPs) and improving process efficiencies with clients are some of the many things we pride ourselves on as an RPO.
#4: Frame as a strategic partner, not a task taker
As we've mentioned before, RPO providers aren't just recruiters – when you discuss this with an executive, reinforce the fact that RPO providers implement best practices from the industry and utilize an agile approach with strategic consultative insights, market data and the latest in AI technology to help a company gain high-quality employees. The key here is to link back how this will be a financial benefit and save overhead (in lieu of hiring additional employees internally to fulfill this need). Distinguishing between a partnership intent on becoming a part of your company's culture versus a transactional recruitment process will help prove the investment is well worth the effort.
#5: Drive the diversity conversation home
It's become apparent that companies are genuinely interested in making a change to their diversity and inclusion practices, and RPO providers are experts in this space. Tackling the conversations around unconscious bias and sourcing candidates of all walks of life, executives will be happy to know an RPO provider will implement this into their strategic efforts and foster positive associations with the company's existing employees as well. This helps enforce positive perceptions around brand and drive lasting, innovative change – all proven benefits to hiring diverse employees with different backgrounds.
RPO means value in all things hiring, strategy and more
The value of partnering with an RPO provider for executives lies in the ability to source the right strategy that will innovate and continue to evolve the business. Being able to pinpoint what those points are to an executive, while driving home strategic knowledge and outcomes, is how you'll get their buy-in. Once the value is relayed, cost shouldn't be as much of an obstacle – especially when results continue to flourish. Just be sure when looking for RPO providers you choose one that culturally aligns with your company and delivers on what they promise.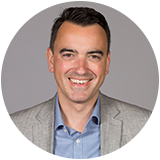 As Senior Vice President, Global Strategic Talent Solutions, Craig leads WilsonHCG's growth strategy and new partnership cultivation across the globe. Alongside the trusted consultants at WilsonHCG, he builds market-leading, scalable and customisable RPO solutions. Craig's relationships span all industry verticals and geographies with expertise in Technology, Business Services, Financial Services, Engineering, Manufacturing, Retail, and Media.
Related Resources