Talent pipelines: Why they are essential
June 17, 2020
Talent pipelines give organizations consistent access to qualified streams of candidates. Put simply, they deliver qualified candidates into either talent pools or talent communities.
Pipelining talent is an effective way to make faster, better hires. As companies look to the future and get ready to ramp to cope with the increased demand that's expected once the economy starts to lift, pipelining will be key.

In fact, 67% of organizations are currently building talent pipelines, according to a study we recently conducted.
"Talent pipelining is about much more than collecting candidates though. Organizations need to think about what they are actually doing with the candidates they collect. They are effectively consumers and expect regular engagement using personalized content. You need to build a talent community and have meaningful engagement with your pipeline."
What is a talent pool?
A talent pool is a database containing details about quality candidates who have the potential to meet immediate hiring needs. A talent pool is effectively a static list of names and contact details that recruiters use when they have open roles.
What is a talent community?
Talent communities are most often manifested as digital networks that allow candidates to maintain relationships with organizations even when they aren't actively under consideration for a specific role. Talent communities not only educate candidates but also help to keep them engaged through personalized content.
Some organizations have multiple communities that revolve around certain roles or themes as part of their talent acquisition strategy. For example, an early careers program will typically have its own community to ensure the content shared is tailored to suit. Interaction is ongoing and conversational to allow talent acquisition professionals and hiring managers to build genuine relationships with members. Recruiters get to know members (and potential candidates) over a sustained period of time.
The types of content shared in talent communities include articles, thought leadership, research, opinion pieces, whitepapers, eBooks and the like. Remember to constantly evaluate your community to ensure your members are engaged. If not, you may need to create different content or increase the number of times you engage with members.
According to a survey by Deloitte, 49% of millennials (which make up 75% of the workforce) would, if they had a choice, quit their current careers in the next two years. Therefore, keeping candidates "warm" is essential
Today's workers are seemingly always considering their next move. Organizations need to promote themselves as employers of choice by sharing compelling content via their talent communities. This will give them the power to influence applicants.
It's about more than just sharing compelling content though. Content needs to be personalized so it appeals to all segments and generations of top talent, including contingent workers. We'll cover employment brand in more detail later on.
There are four ways to pipeline candidates: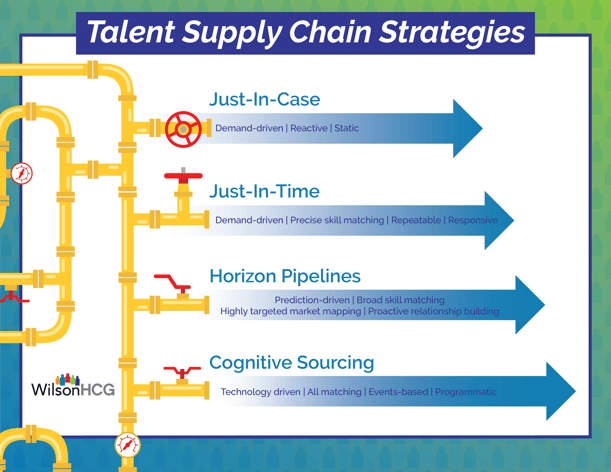 Just-in-case: Recruiters work on live requisitions and have a group of candidates that are suitable on paper. They'll have matched their skillsets using their resumes during the initial screening process. When a requisition closes, any applicants who didn't secure an interview will be put on file "just in case" recruiters need a candidate with those skills in the future.
Just-in-time: Recruiters often manage just-in-time talent communities on an ad hoc basis. They mainly use candidates from these communities for immediate hiring needs. Talent mapping is usually a component of this method as it helps organizations to better understand market conditions. Engagement is typically one way and the content shared is often information related to job vacancies and referral generation. This method is best for high-volume, repeatable roles and is usually project-based. Candidates in this pipeline are typically pre-qualified.
Horizon pipelining: A dedicated talent acquisition team usually manages the talent community and marketing teams and HR departments lend a hand to produce compelling content. Candidate relationship management (CRM) systems are optimized with defined workflows and segmentation, so messaging isn't diluted. Marketing automation supports two-way, long-term engagement and focuses on forward planning for future critical talent needs. Candidates are pre-qualified on a skills basis so they can be matched to roles to meet business needs as an organization transforms or grows.
Cognitive sourcing: This involves a unified talent acquisition and employment brand strategy that drives talent relationships and community management. Technology platforms are fully integrated and artificial intelligence is leveraged. With this method, the candidate journey and experience are mapped and aligned to individual talent personas. Priorities for long-term hiring needs are identified based on future potential, skill and culture fit.
What is talent mapping?
Talent mapping allows organizations to better understand market conditions and competitor activities. This means they can pinpoint exactly where the best talent is coming from. Organizations that plan to expand into new markets will benefit from talent mapping. As will companies looking to attract high-performing passive candidates, those with talent gaps or those undergoing organizational change. Talent mapping can give organizations a competitive advantage by providing strategic insight into competitor and candidate intelligence.
There are multiple methods used to identify talents including street-level, phone-based and web-based.
The talent mapping process has many benefits including:
Providing up-to-date competitor intelligence
Delivering insight into candidates' skills, competencies and capabilities
Enabling more informed talent strategies and proactive recruiting
Creating a talent pipeline for future recruitment
Decreasing time-to-hire
Reduction in turnover rates
Offering visibility into your employer branding reputation and attractiveness
Consultative approach
Market mapping provides an in-depth view of the available talent within the market, covering both active and passive candidates.
Market mapping can help organizations build talent pools with external candidates based on their established criteria to either fulfill immediate or future vacancies.
Evolving talent landscape
The relationship between candidate and employer has changed over the years and candidates are essentially consumers "shopping" for careers. It requires minimal effort on their part thanks to the digital age we live in. Organizations must position themselves as employers of choice but do so authentically to "sell" their companies to new hires.
Why robust employment branding is key
Your employment branding shows candidates what you stand for and what you have to offer. It also shows candidates what it's like to work for your organization by drawing attention to culture. It's used in the same way marketing is used to inform potential customers about the benefits of your products and services. Having a robust employment brand is a business imperative.
"What an organization does during a crisis can have a significant impact on its employment brand further down the line."
Employment branding considerations
Today's job candidates want more out of work. They want meaningful careers, flexibility and the opportunity to make a real impact. Although compensation and benefits are still important drivers, corporate social responsibility (CSR), especially from millennial and gen Z candidates, is key.
Employers need to understand the expectations of every generation with a brand that speaks to the individuality of each group. Details of company culture, CSR programs and innovation should be promoted via robust employment brands so candidates know what to expect.
Effective talent pipelining provides immediate access to qualified talent and can speed up the hiring process. Building strong relationships with potential candidates is key, while employment branding also plays an integral role when engaging with external candidates.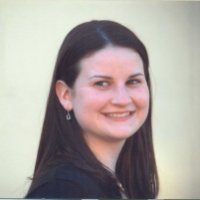 Gillisa Pope is a senior member of WilsonHCG's innovation team. As director of sourcing strategy, she melds creative ideas, analytics and best practices to design and action impactful sourcing solutions. An expert in employment branding, Gillisa is also part of the team that produces WilsonHCG's award-winning annual Fortune 500 employment brand report. She has over 15 years of experience in designing and building talent attraction strategies for some of the world's most admired brands.
Related Resources