2020 Fortune 500 Employment Branding Report overview
March 3, 2020
Today's employment brand strategies must be multifaceted in order to have the desired effect of attracting talent. Employment brand strategy has evolved - it's gone from a nice-to-have to a business imperative. The information that candidates want to see has also changed. The days of using employment branding to just showcase workplace culture and benefits are long gone. Today's candidates want more. A lot more, in fact. They don't just want a job - they want flexible, meaningful careers, and the opportunity to make an impact.
WilsonHCG's research team has spent months examining the employment brands of each of the Fortune 500. Featuring six key employment branding categories and 18,000 data points, the report shows how the world's biggest companies are placing more emphasis on corporate social responsibility (CSR) in a bid to attract top talent.
The increased focus on CSR in employment branding certainly makes sense. After all, there's been a huge shift in candidate mindset over the last couple of years. Today's candidates are consumers. They have access to information 24/7 and are empowered to contribute more freely, hence the rise in employee reviews and employee influencers.
Workforces are multigenerational and have five (yes, that's right, five!) generations working alongside each other, so employers need to understand what drives each generation and what expectations each has. Put simply, when it comes to employment branding, organizations have never had to be more strategic.
Employment brand categories
We evaluated the following categories as part of our research:
Recruitment marketing
We looked at how the Fortune 500 companies market their organizations to job seekers, including whether they had a talent community, blog and much more.
Career advertising
As part of our analysis for this category, researchers focused on job roles and whether the Fortune 500 advertised on social media sites and designated job boards.
Career websites
In this category, analysis was carried out to determine if the organizations had company career sites and whether the sites had multimedia content with informative job descriptions and critical talent segmentation, as well as if they demonstrated diversity and inclusion.
Employee reviews and candidate experience
For this category, which awarded the highest number of points, researchers examined whether employees would recommend the organization to a friend, the company rating on Indeed and Glassdoor and more.
Accolades
We altered the criteria in the accolades category this year to reflect the rise in the number of companies incorporating innovation in their employment brand. Candidates are actively looking for innovative companies. We reduced the number of points available in the miscellaneous accolades section from five to two points and added another benchmark relating to BGC's Most Innovative Company list. As a result, companies that were featured on the list were awarded three points.
Corporate social responsibility (CSR)
A number of aspects were scrutinized in this category including corporate ethics, community outreach, and gender equality,
The top 10
We had a new No. 1 and two new entries to the top 10. Marriott International scored a record 90 points and took the top spot for the first time, while Johnson & Johnson moved down a spot to claim second place with 89 points, followed by Hilton Worldwide Holdings in third with 84 points. Hilton Worldwide Holdings jumped 24 places to third. HP leapt 39 places, going from 44 to fifth and CDW also reached fifth after coming in at 17th the previous year.
What did we learn?
The report revealed plenty of interesting findings. The increased focus in CSR is just one trend that stands out.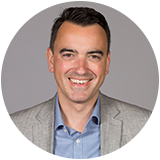 As Senior Vice President, Global Strategic Talent Solutions, Craig leads WilsonHCG's growth strategy and new partnership cultivation across the globe. Alongside the trusted consultants at WilsonHCG, he builds market-leading, scalable and customisable RPO solutions. Craig's relationships span all industry verticals and geographies with expertise in Technology, Business Services, Financial Services, Engineering, Manufacturing, Retail, and Media.
Related Resources