3 Industry Trends Set to Define the 2018 Talent Landscape
October 10, 2017
According to more than 4,000 corporate talent acquisition leaders across 35 countries, talent is the No. 1 priority for 2018. In addition, 56 percent of these leaders say hiring volumes will increase in 2018 – and, to accurately measure success and quality, they are placing more focus on tenure, hiring manager satisfaction, and time-to-fill. In brief, talent – your people – not only define but further develop and drive employment brand, culture, talent acquisition and management and, beyond that, strategic business objectives. To maximise the "business" aspect of talent strategy, leading organisations are empowering their candidates and workforces.
Companies are well in the midst of evaluating the success of 2017 while planning for 2018. This month WilsonHCG held a London-based event in collaboration with leading global membership organisation for corporate recruitment professionals, The FIRM, and featuring various peers and partners – primarily to deep dive into what we've seen in 2017, what companies can expect in 2018, and how it all factors into the development of your talent strategy. Throughout the discussion, we concluded on three predominate industry trends leaders need to consider as they enter 2018 and strive to harness the power of their people.
1. The Fierce Competition for Talent, Stronger than Any Time in History
Today's pursuit for talent is as competitive as ever, led by a growing skills shortage, advanced technologies, demographic shifts and evolving dynamics around the nature of work. Further, hiring volumes increased in 2017 over 2016, and will continue to increase in 2018. Eighty-three percent of executives, as highlighted above, believe talent is their No. 1 priority. In addition, according to
Deloitte's 2017 Global Human Capital Trends Report
, talent acquisition is also the third most important challenge companies face; just behind "careers and learning" and "building the organisation of the future" – each of which pertain specifically to talent acquisition and management.
Ultimately, organisations recognize the need for talent, the need to empower and improve their talent, yet are still challenged to do just that. Toward this end, strategic workforce planning (SWP) plays a unique, imperative role. SWP arms talent leaders with the ability to assist their CEOs in driving the organisation's current and long-term business needs. No longer a head counting exercise, SWP is a collaborative and critical effort that many organizations are investing in to predict the future growth/trajectory of the company, while evolving talent profiles in the midst of today's digital age.
2. The Rise of Total Talent Strategy
In 2017 and moving into 2018, in response to the challenges explored above leaders are challenged trying to find consistency during ever-present change and strategic direction amidst an unknown future. In fact, according to Mercer's Global Talent Trends Study 2017, 93 percent of 400+ executives plan to make a design change in their company within the next two years to stay ahead and keep the focus on their workforces. Specifically, they are transforming hierarchical structures, eliminating departments as well as decentralizing authority to keep up with the pace of change and inspire adaptability, flexibility and scale.
At WilsonHCG, we have recognised the need for (and, in response, transformed our talent solutions into) "total talent strategy" – where talent management and talent acquisition, and all components within, are equally important and part of an interconnected ecosystem. It is our belief (and mission in partnership with our clients) that, for an organisation to thrive, all pieces of talent strategy (the ecosystem) need to function as one integrated unit that optimises the positioning, work and growth of your talent in a way that ultimately moves the business forward.
There are numerous shifts leading to the demand for united, total talent strategy:
Limited resources available for talent. Organisations are becoming leaner and wiser about where to invest limited resources – HR and talent strategists must prove their value to the business. Total talent solutions providers bring the market research and precise consultation needed to ensure companies are strategically investing their resources in the right areas.


Greater dependence on contingent workforces. The popularity of hiring contingent talent (freelancers, independent contractors, temporary-to-permanent and non-permanent workers) has catapulted, in large part due to economic uncertainty and the need to adapt to major market changes at moment's notice. In fact, 83 percent of executives report they are are increasing contingent workers within their organisations.


The need and challenge to fill complex, niche positions. Finding the right talent for complex roles has become increasingly competitive. By 2020, according to McKinsey & Company, approximately 20 to 23 million workers in advanced economies will lack the skills employers need. Leaders, backed by targeted candidate profiles, referral sources and market mapping expertise, are honing in on the most capable, available talent precisely where it's located.


Rapidly evolving technology landscape. Technological advances such as artificial intelligence (AI) are leading to a redundancy of highly transactional roles while producing new skills to build these technologies. Of note, also according to McKinsey & Company, at least 30 percent of the activities associated with the majority of occupations could be automated. Organizations need to implement the right technologies while understanding and maintaining the precise balance between human/personal processes and technological advancements.


The on-demand economy is growing. Workers, particularly 18-35 years olds, who will make 50 percent of the workforce by 2020, are expressing an increasing demand for flexible and diversified opportunities. In fact, workers in the "Gig Economy" (i.e., professionals abandoning traditional 9:00-5:00 employment) grew by 28.8 percent between 2010 and 2014, gaining 2.1 million more jobs over the course of just four years.


Globalisation. Global and regional lines are blurring, especially as the way in which we work (e.g., remote workforces skyrocketing), communicate and interact continue to evolve. Companies are globalising and, in turn, striving to access talent across different geographies, including talent capable of speaking multiple languages, scale at moment's notice, and willing to relocate as needs arise.
3. Strategies in Response to Global Shifts

As explored above, the competition for talent is relentless, but it's not an impossible to overcome challenge. There are strategies we believe you can undertake to prepare your talent leaders and organisation as a whole:
Optimise your use of mobile applications. Based on what we're seeing across the talent landscape, by 2020 much of recruiting will be done via mobile. Candidates will continue to increase their use of and rely on mobile applications, career sites, job boards and outreach to uncover what they want in a career, gain insight into a company's employment brand, benefits and culture, and advance their skillsets. Ensure you're not losing candidates or employees by making certain your websites and applications are 100 percent mobile friendly. This isn't a nice to have any longer, it's table stakes.


Integrate talent management software with HR analytics. This will soon no longer be optional as we head into 2018, 2020 and beyond. There are various ways workforce analytics can be leveraged throughout all aspects of talent management. Compared to applicant tracking systems, workforce analytics have more comprehensive and relevant data, keywords and algorithms, and are therefore able to return more relevant results. Within talent management lies talent acquisition, talent nurturing and retention. Improve these core aspects with three initial steps.


Evolve recruitment strategies to attract the highest performers. Through the combined use of AI, analytics and continuously evolving recruiter skillsets, the strategies organisations use to attract the highest performers will likewise continue evolve. Where are you on the spectrum of innovation and modern talent strategy? Evaluate your current state and take steps toward continued progression today.


Integrate higher levels of candidate automation into the hiring process. Technology is enabling better, more intimate and strategic human interaction by making various pieces of talent acquisition and recruitment automated, more easily tracked and efficient. With the right technological tools, recruiters are not being replaced but, rather, able to put their true expertise to work in the areas they're most passionate about (and the most important areas) – building relationships, learning, listening and helping professionals find their next, best career opportunity, while likewise helping them ramp-up in new roles at moment's notice.


Create a more efficient and expedited recruitment process. Technology is revolutionising what it means to be competitive, and organizations need to find the right balance. At WilsonHCG, we believe finding comfort and proficiency specific to AI and process automation revolves around open dialogue. Organisations can't be fearful. We believe it comes down to balancing technology and human support in a way that is fluid, candidate- and client-specific.

As you craft your 2018 talent strategy, ultimately, it's important to keep in mind the No. 1 priority: your people. People are your greatest asset and, regardless of economic shifts, advancing technologies, and/or the restructuring of how we all work, they will continue to be the drivers of your business. Paul Dodd, WilsonHCG's Head of Engagement, perhaps said it best:


"Today's leaders need to be in lockstep with their people. We need to focus on the entire employment experience, work smarter, and find balance between soft skills and technical skills. We need be accountable, accessible and available, aligned with the pulse of our organisations, aware of the talent pipeline, regional yet with a global mindset. We need to embrace the many recruitment marketing, automation and talent management technologies available. We need to inspire diversity and inclusion, and build our employment brand from the inside out. Above all, we need to empower our people."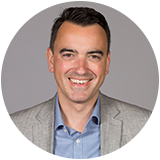 As Senior Vice President, Global Strategic Talent Solutions, Craig leads WilsonHCG's growth strategy and new partnership cultivation across the globe. Alongside the trusted consultants at WilsonHCG, he builds market-leading, scalable and customisable RPO solutions. Craig's relationships span all industry verticals and geographies with expertise in Technology, Business Services, Financial Services, Engineering, Manufacturing, Retail, and Media.
Related Resources