Why WilsonHCG developed a technology recruitment certification program
August 6, 2019
WilsonHCG has a global workforce with clients spread across many diverse industries. Over the last few years, WilsonHCG experienced an increasing demand for technology recruitment specialists. We already had a strong tech presence between our sourcing and recruiting teams, but we also had a large number of employees with an interest in learning about technology recruitment. Over the last 12 months, WilsonHCG has expanded into new markets, countries, and has increased its headcount; we wanted to ensure we had suitable tech training materials for all employees.
Why innovation is so important
We pride ourselves on being innovative and staying up to date with the latest trends; this is how we stay ahead of competitors. The technology landscape has evolved considerably in recent years. In fact, all companies can be considered a technology business because of the amount of technology we rely on to operate any business. It's not just technology organizations that have to attract, hire, and retain top tech talent anymore, so competition is fierce.
To keep up with the ever-evolving technology recruitment ecosystem, we developed a technology recruitment repository and an evergreen learning platform for employees.

Through collaboration with senior leadership, the learning and development team and a group of technical recruiting subject matter experts, built a grassroots program to address this critical need. In the first part of this blog series, we will introduce you to WilsonHCG's Tech Recruitment Certification Program and share why we created it.
The idea for the global program came from an employee as part of WilsonHCG's W1nvestment initiative.
So, what is the W1nvestment program?
Innovation is prevalent throughout WilsonHCG; it's a core differentiator. Most innovative solution improvements have been created by employees. To foster an environment of creativity, WilsonHCG developed an internal initiative called W1nvestment. This project allows employees from various regions and roles to pitch an idea on how to make WilsonHCG more innovative - and make improvements to our company.
We knew once the idea for the technical training program was pitched, we had to develop it. After all, the US net tech employment totalled an estimated 11.8 million in 2018, an increase of more than 260,000 workers over the 2017 base of 11.5 million.
We saw this as an unprecedented opportunity to upskill our internal talent and create a training program for new and emerging technical recruiters.
Building the program
It took us 15 months to source and fully develop the program.
The initial advisory program board was comprised of:
Angie Hahn, VP, Talent Acquisition
Tallin Semerjian, Sr. Global Manager, Talent Acquisition
Melissa Balgley, Project Manager
Prema Tasnim, Program Coordinator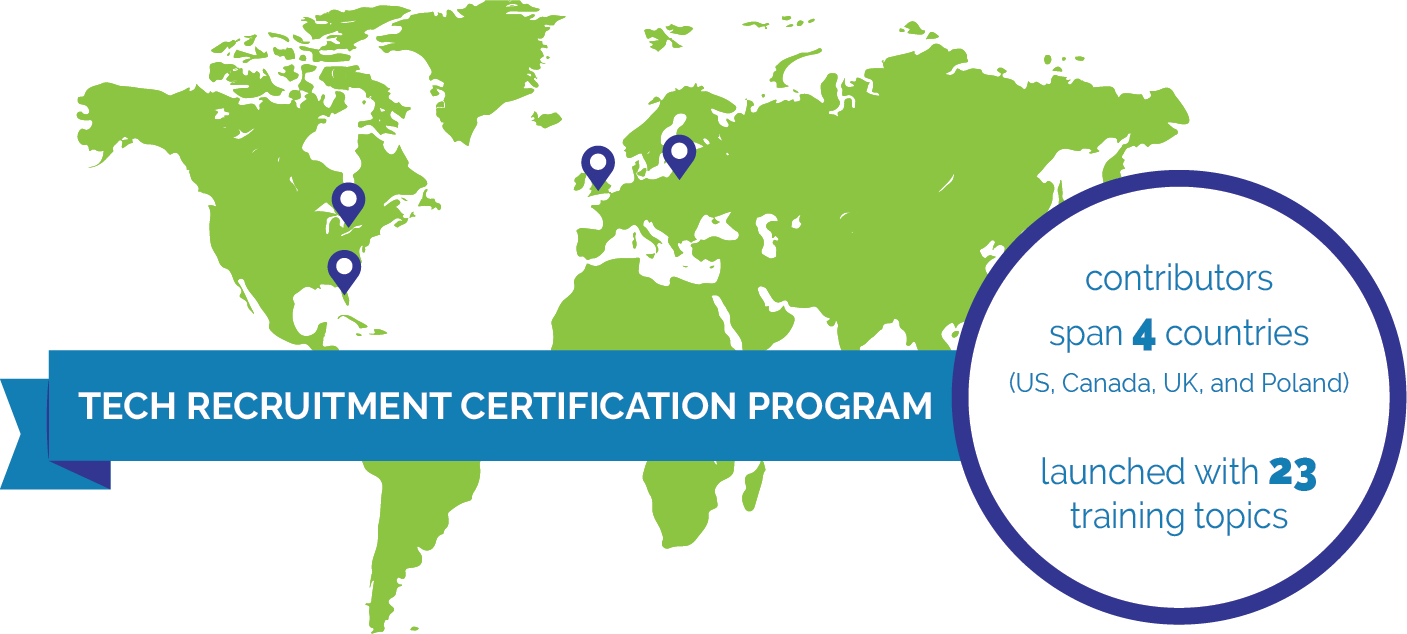 As a board, the collective vision was to create a program that would be ideal for all levels of technical recruitment experience and skills. We created three certification levels that are aligned to knowledge level and each has training tasks that allow individuals to progress and move to the next level, earning badges upon completion of each stage.
The levels are:
Level 1: Certified
Level 2: Expert
Level 3: Master
Next stage
We identified external in-demand technology and hiring trends, including cyber security, devops, software development, artificial intelligence, and network engineering. The subject matter experts were the foundation of the program and we worked with them to develop the training materials. Each training topic includes an introduction to the type of technology, how it's used, resources for continued learning, sourcing and recruiting strategies, and a quiz to test knowledge and application. The library of materials and training decks are available in WilsonHCG's learning management system (LMS) and are available to all employees, Staff can access the LMS 24/7 and, therefore, can learn at a pace that suits their individual needs.
The Tech Recruitment Certification Program is one of the many passion projects we have built from scratch to help ensure our workforce is engaged and in the know.
Check out part two of this blog series to learn more about our customized badges and how the Tech Recruitment Certification has already provided value to our clients.
Read more
How to create a successful learning and development program
Five minutes on learning and development
As the Sr. Global Talent Acquisition Manager at WilsonHCG, Tallin focuses her time on internal recruitment programs and operations for clients. In her years of recruitment, she has developed a passion for technical recruitment, employment branding, candidate experience, and innovation.
Related Resources