[Panel recap] What you can do about talent reshuffling during The Great Resignation
October 28, 2021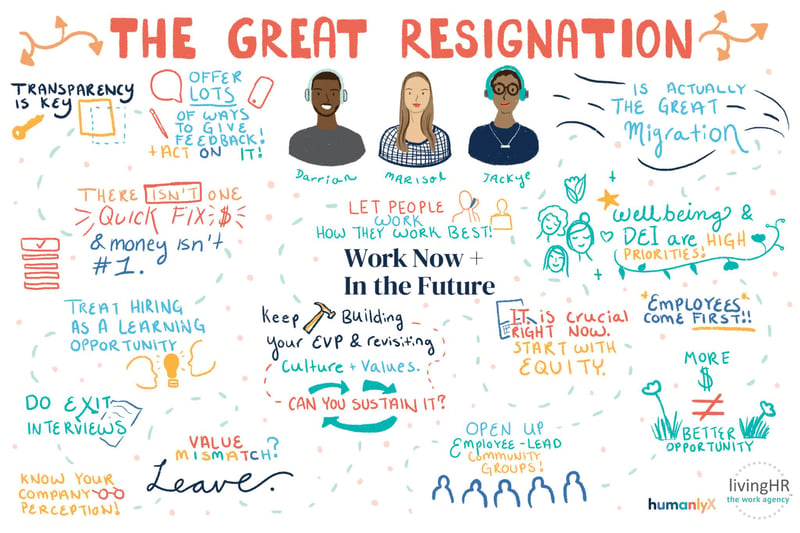 Image credit: livingHR
Marisol Hughes, WilsonHCG's EVP and general counsel, participated in a panel discussion with livingHR about the Great Resignation. Joining her were Jackye Clayton, VP of DE&I at Textio and Darrian Mikell, CEO & Co-Founder of Qualify. The topics they discussed were around key challenges employers face today and how to overcome the skills shortages and changes from the pandemic.
ICYMI, here are some of the highlights below.
You can also watch the recording on any of these platforms:
Google Podcast
Spotify Podcast
Apple Podcast
Vimeo
Talent is reshuffling rather than resigning.
What we heard: The Great Resignation isn't so much a mass resignation as it is a migration. The talent landscape is reshuffling largely due to remote work. This change means people are more selective about what kind of environment they let into their homes (now that they've merged).
What we understood: Having a ping pong table and a free lunch is no longer enough to prevent employees from leaving. They want to be seen as people and given learning opportunities to grow.
What is required: Transparency in leadership is essential for trust and employee retention. Especially in times of uncertainty, communicate regularly and give your employees tools to understand their role in the company and how it plays into the bigger picture. This will build their confidence in the organization.
Work-life balance is the golden ticket, not compensation.
What we heard: Compensation isn't the highest ranked factor people seek when job hunting – it's well-being and work-life balance. The pandemic has caused a reprioritization of peoples' needs and wants. Counteroffers will not ebb the flow of employee resignations in the long term.
What we understood: Making people choose between coming back to a career they love and an office where they're not comfortable isn't viable for loyalty. So, how do you address everyone's needs while investing in the future?
What is required: If you're able to, offer a remote or hybrid office option. Also, look outside of compensation to well-being programs; diversity, equity, inclusion and belonging (DEIB) opportunities; and total rewards, like benefit enhancements. These will take a lower hit to cash flow now and provide more benefits you can commit to for the future.
Learn why people leave – and look for trends.
What we heard: Exit interviews are where you get your most candid and honest feedback.
What we understood: Listen to your employees so you can identify individual circumstances versus a wider trend that could be affecting other employees.
What is required: Even if it's informal, conduct exit interviews with employees about what their motivators are for leaving. And be sure that feedback is funneled to executives so it's heard and actioned upon promptly.
Know your employment branding.
What we heard: Now is not the time to be unclear with your employment branding and employee value proposition (EVP). If you don't take the time to do this for your company, other people will do it for you (and you'll have no input!).
What we understood: Without your mission and values clearly articulated, companies struggle to attract and retain talent. Job seekers are looking for meaning in their everyday tasks.
What is required: Examine your company values and EVP on a regular basis and always adjust, amend and evolve. Your EVP from a year and a half ago is already obsolete. It's essential to come across authentically. A culture that aligns with candidates could mean them choosing you and another company.
Actively practice empathy – and they will stay.
What we heard: Empathy means different things to different people. Because everyone thinks and processes in their own unique ways, it's essential to prioritize empathy. It will create a sense of belonging and make employees feel welcome.
What we understood: A one-size-fits-all approach to empathy won't work. Taking a compassionate route to understanding how others prefer to communicate results in constant improvement.
What is required: Be open the opportunity to learn by having employee resource groups (ERGs). These groups allow employees to share their stories and humanize personal experiences that give others insight into how others think and feel differently. Ensure buy-in by having executives sponsor ERGs and empower employees to call the shots. Giving a budget allows employees to band together and help with charity initiatives to make a positive impact in the community.
Read more: Learn why empathy is vital for effective leadership
Let employees own how they show up to the workplace.
What we heard: People may not be comfortable with certain modes of communication. This may hinder their ability to give you honest feedback on how they're feeling or prevent them from reaching out if there's no boundaries or feedback system in place.
What we understood: Provide employees with accessible ways of giving feedback and then act on it. Otherwise, they'll eventually stop if they don't feel like they're being heard.
What is required: Give permission to employees to be off camera, to take a call while walking their dog or let them give feedback by typing out their answers versus speaking up during a brainstorm session. This grace has a big impact on your employees feeling comfortable and showing up authentically to work.
The talent attraction metrics you should be tracking
Learn how to connect your HR metrics to bottom-line impact with our guide.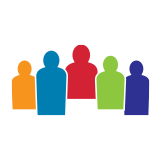 WilsonHCG is an award-winning, global leader in total talent solutions. Operating as a strategic partner, it helps some of the world's most admired brands build comprehensive talent functions. With a global presence spanning more than 65 countries and six continents, WilsonHCG provides a full suite of configurable talent services including recruitment process outsourcing (RPO), executive search, contingent talent solutions and talent consulting. TALENT.™ It's more than a solution, it's who we are.
Related Resources