WilsonHCG's Kim Pope to speak at the Recruitment Automation Conference
May 28, 2020
May 2020
EVENT
WilsonHCG's Kim Pope to speak at the Recruitment Automation Conference
Thursday, June 4, 15:40 - 16:20 (EDT)
Kim Pope, chief operating officer at WilsonHCG, will be speaking at the Recruitment Automation Conference (RAC).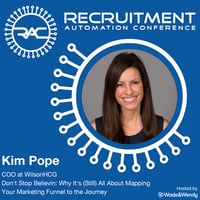 The virtual event is taking place on June 4 and Kim will feature alongside some of the industry's most prominent thought leaders in talent acquisition including talent leaders from companies like Johnson & Johnson, AT&T, Uber and Siemens.
Kim, who leads the global delivery team to develop solutions to help our clients create proactive talent acquisition strategies that fuel growth and innovation, will participate in a panel discussion on stage (albeit virtually) between 15:40 and 16:20 (EDT) to talk about why it's still all about mapping your marketing funnel to the journey.
You can find more details about the event here.
Read more from Kim Pope, chief operating officer at global talent leader WilsonHCG
Preparing for the new era of employment branding: Three considerations
In this article for the Forbes HR Council, Kim discusses why a robust employment brand is more important than ever.
Kim Pope provides valuable insight on how to build a strong employer brand
In this post, Kim talks about how to develop a strong employer brand.
Kim Pope selected for Forbes Human Resources Council
This press release has details of Kim's acceptance into the Forbes HR Council.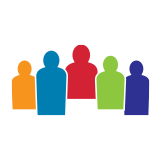 WilsonHCG is an award-winning, global leader in total talent solutions. Operating as a strategic partner, it helps some of the world's most admired brands build comprehensive talent functions. With a global presence spanning more than 65 countries and six continents, WilsonHCG provides a full suite of configurable...
Related Resources