May 2020
EVENT
WilsonHCG's Kim Pope to speak at the Recruitment Automation Conference
Thursday, June 4, 15:40 - 16:20 (EDT)
Kim Pope, COO at WilsonHCG, will be speaking at the Recruitment Automation Conference (RAC).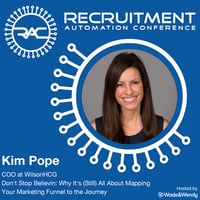 The virtual event is taking place on June 4 and Kim will feature alongside some of the industry's most prominent thought leaders in talent acquisition including talent leaders from companies like Johnson & Johnson, AT&T, Uber and Siemens.
Kim will participate in a panel discussion on stage between 15:40 and 16:20 (EDT) to talk about why it's still all about mapping your marketing funnel to the journey.
You can find more details about the event here.