Building a diverse and inclusive workplace is critical if you want to foster innovation in your organization. One way to advocate for diversity, equity, inclusion and belonging (DEIB) is to acknowledge unconscious bias, according to Marisol Hughes, EVP & general counsel for WilsonHCG.
She spoke to reporters at the Tampa Bay Business Journal about the importance of addressing all forms of bias in the workplace.
"Just because it's there, doesn't mean we have to accept it, however," she added. "It's a continual effort to engage and educate employees about unconscious bias. This includes building awareness training recruitment team members around its inevitable presence. You may never eliminate bias completely, but you can foster openness in addressing it and put in place real action plans when it comes up in the workplace."
You can read the full article here.
---
Want to learn more about fostering DEIB in your workplace?
Access our whitepaper here.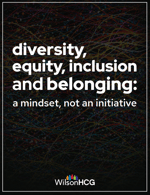 Read more about DEIB
Marisol Hughes talks diversity, equity, inclusion and belonging
WilsonHCG named a Tampa Bay Business Journal Business of Pride honoree
WilsonHCG EVP Marisol Hughes named a diversity, equity & inclusion influencer