PROFILES IN DIVERSITY JOURNAL: WILSONHCG'S LESLEY TAYLOR TALKS ABOUT HOW IMPORTANT FEMALE ROLE MODELS IN LEADERSHIP POSITIONS ARE
October 3, 2019
October 3, 2019
The gender of role models shouldn't matter but it does, that's according to Lesley Taylor, Senior Vice President Client Strategy, EMEA, at WilsonHCG.
She made the comments in an essay she wrote that was published in Profiles in Diversity Journal after she was selected as a 2019 Woman Worth Watching honoree.
Lesley, who is responsible for driving the delivery of talent solutions across WilsonHCG's EMEA client base, talked about the presence of women in leadership positions and how the opportunity to network with them is vital to help motivate other women to advance in their careers.
In the guest post, she also calls for more female role models.
"Female role models help to inspire young girls. When they see a woman doing a job in a male-dominated sector, be it technology, law, or manufacturing, it gives them the belief they can do it too. Women need to see if to believe it," Lesley added.
You can read the full essay in the Profiles In Diversity Journal - 2019 Summer Issue Women Worth Watching® Edition.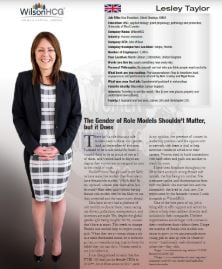 More news about Lesley
WilsonHCG's Lesley Taylor named to SIA's 2019 Global Power 150 list of women in staffing
This press release includes info about Lesley being named to Staffing Industry Analysts' (SIA) list of Global Power 150 - Women in Staffing. This annual list recognises female leaders and influencers in the global talent marketplace.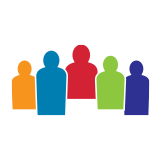 WilsonHCG is an award-winning, global leader in total talent solutions. Operating as a strategic partner, it helps some of the world's most admired brands build comprehensive talent functions. With a global presence spanning more than 65 countries and six continents, WilsonHCG provides a full suite of configurable...
Related Resources