Saying "Thank You" During National Military Appreciation Month
May 25, 2018
National Military Appreciation Month (NMAM) is celebrated each May as a symbol of unity, and to honor current and former members of the US Armed Forces – including those who have died in pursuit and in protection of our freedom. At WilsonHCG, we feel it's important to say "Thank You" to those who've sacrificed and continue to serve. There are a number of ways to express your appreciation, as a company and personally, and they cost nothing more than your time.
Grasping the Depth of Today's Service Members
Like many, I've had aunts, uncles and grandparents serve in the Armed Forces. Their sacrifice and dedication for us as citizens and their families is remarkable. In the US alone, as of early 2018, there are approximately 2.1 million people currently serving. Over half are on active duty:

Army: 467,000+
Navy: ~320,000
Air Force: 320,000+
Marines: ~185,000
These numbers are but a sample of the men and women currently serving our country, and don't factor in the Reserves from these branches or currently living Veterans (20+ million). In brief, nearly 8 percent of the US population are active Military personnel and Veterans. NMAM is our chance to take a moment and give thanks for the impact they've had and are having on the lives of those we hold dear.
Toward this end, there are six national observances during NMAM:
Loyalty Day (May 1)
Public Service Recognition Week (May 6-12)
VE Day (May 8)
Military Spouse Appreciation Day (May 11)
Armed Forces Day (May 19)
Memorial Day (May 28)
Simple, But Lasting Ways to Say Thank You
With WilsonHCG, I am proud of the fact that we support current Military members and Veterans transitioning into the civilian workforce. Operation Transition provides resume writing, career counseling, even 1:1 career coaching and mentorship to those in need of support. Why do we do this? It's our small way of saying "Thank You!" year-round – to support the careers of Military and Veteran personnel, and to show employers across the globe that hiring someone with such a background brings countless benefits to their workforce, including:
Leadership, Integrity, Reliability
Strong Work Ethic, Self Discipline
Training in Advanced Technologies
Inspired, Team-Focused Success
Diversity and Inclusion
Ken Bowles, a US Army Veteran and WilsonHCG's newly appointed CFO had this to say about NMAM and becoming part of the WilsonHCG team:
"From day one I felt very welcomed and part of the WilsonHCG family and DNA. I'm proud that time is set aside to reflect on those who have chosen to join our Military, be it a service member or their family members.
Many don't realize the sacrifices that are made by a few to support the way of life for many, particularly those who have made the ultimate sacrifice. This is a time where people from both sides can create open dialogue and learn to understand what it is like to be a part of our Military."
As you personally or as a leader within your organization consider ways to show appreciation, one example to consider is welcoming home Veterans at your local airport. In the Tampa area, where I am located, the next ceremony is set to be held June 4 at St. Petersburg Clearwater Airport. A simple internet search should return where/when you can get involved! Something as simple as showing up to say "thank you" and "welcome home" can go a long way in the hearts of active duty personnel, Veterans and members of Military families.
To honor NMAM in one small way, my daughter Mackenzie and I recently visited a local Marine Corps office to deliver baked goods to Sergeant Vivian E. Wilkinson and his team. I ended up growing a newfound understanding of just how blessed and fortunate my family and I truly are. These men and women give up far more than I could ever imagine; they put everyone before their own lives.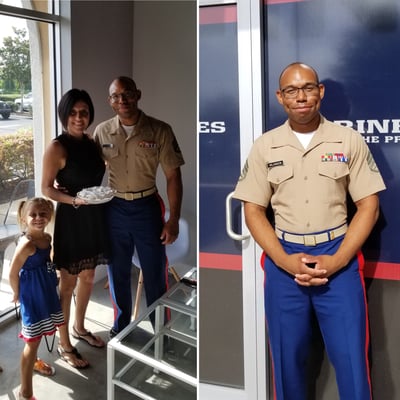 And so I encourage you, though NMAM is nearly over – it's not too late! Whether working on initiatives to improve and empower the recruitment of diverse populations such as Military personnel (contact WilsonHCG if you're in need of strategic support here!), or personally seeking to express gratitude, please consider taking action today. On behalf of WilsonHCG, thank you to ALL service members – Active, Veterans, Reserves and Fallen. We hope you feel valued and appreciated not only during NMAM but year-round.
Anna Hutchinson is a WilsonHCG Recruitment Consultant, operating out of the company's corporate headquarters in Tampa, Florida. Anna brings nearly 20 years of senior recruitment experience, with specialties in sales and finance recruitment, social networking, and building business relationships. In addition to her professional role, Anna regularly volunteers at Florida Wesley Chapel Hospital.
Related Resources