What critical workforce trends do I need to know about?
September 14, 2021
Never has the jobs market been in such a constant state of flux as it is today. Companies need people – and they needed them yesterday. But attracting, hiring and retaining talent isn't as straightforward as it once was. Why? Record job vacancies, severe skills shortages, changing candidate expectations, high turnover rates and rising inflation are all having a huge impact on the jobs market as we know it.
There are millions of jobs out there that need to be filled, but there is a severe shortage of candidates. In this post, we're going to look at what exactly is going on in the talent market today. We'll consider the impact rising inflation is having, why quit rates are so high and the importance of taking a long-term approach to talent acquisition (including how recruitment process outsourcing can help).
Contents
Record job openings and low unemployment rates
As the global economic recovery continues to gather pace, the number of companies with open vacancies in the US has soared to its highest level since records began. The number of job openings increased to 10.9 million on the last business day of July, official figures from the US Bureau of Labor Statistics (BLS) revealed. This figure isn't surprising giving the hiring surge that a lot of companies are currently on. Hires and total separations reached 6.7 million and 5.8 million, respectively. The quits rate was unchanged at 2.7% while the layoffs and discharges rate was 1%.
This, coupled with an unemployment rate of 5.2% in the US in July, is creating the most candidate-driven jobs market ever. Candidates looking for new roles have more clout and bargaining power. But, for employers, it can make both recruitment and retention a lot more difficult. Organizations that want to attract (and, indeed, retain) top talent need to position themselves as employers of choice. This isn't easy at the best of times, but it's especially difficult in today's job market. It's the same story over in the UK. Job vacancies there reached 835,000 between May and July, the Office for National Statistics (ONS) revealed, while the unemployment rate was estimated at 4.8% between March and May. This was a drop of 0.2 percentage points on the previous quarter. Meanwhile, the unemployment rate in the EU experienced its third monthly fall in a row in May, going from 7.4 to 7.3%, research from Eurostat revealed. The jobless rate was 6.6%.
It's no exaggeration to say that, at WilsonHCG, we're the busiest we've ever been. The majority of our clients are hiring at scale and the figures outlined above suggest most organizations are the same in the boat. Employers need people – stat. But there's a shortage of candidates, particularly those in industries that have long suffered chronic skills shortages, such as engineering, IT and healthcare. All this only reinforces the need to think more strategically and long-term when it comes to talent acquisition.
What does rising inflation mean for the job market?
Rising inflation is also having an impact on the jobs market. When inflation rises, so do prices (for most things). At the moment, inflation is rising rapidly. In the US, the consumer price index (CPI) rose to 5.4% in the 12 months leading up to June 2021. In the UK, the CPI measure of inflation increased by 2.1% in the 12 months leading up to July, although this was a slight decrease on the 2.4% in the 12 months leading up to June, the ONS revealed. Elsewhere, in China the CPI went up by 0.5% year-on-year in the first half of the year, while the consumer price increased by 1.1% year-on-year, the National Bureau of Statistics of China revealed.
Rising inflation is already impacting wages though. Compensation costs in the US increased 0.7% for the three-month period ending in June 2021, according to the US BLS. For the 12-month period ending June 2021, there was an increase of 2.9%. In terms of average hourly earnings in the US, that has also gone up, reaching $30.40 in June and this follows rises in both May and April. Employers may feel pressured to offer higher salaries to attract candidates. But this isn't something a lot of companies can do. Fortunately, there are other ways to attract candidates if budgets are constrained. Sign-on bonuses can help keep long-term costs low as it's a one-off cost. Unlimited PTO, well-being programs and learning and development (L&D) opportunities are some other things that companies should consider implementing. There are numerous other initiatives that can help, and this is when talent acquisition consulting comes into its own. It provides much-needed value-add to ensure your talent acquisition strategy is not just fit for purpose but will provide the talent you need for many years to come. After all, thinking long-term is now business-critical. We'll cover more on this later.
Need to scale?
There are numerous options available to companies that need to scale at speed. In simple terms, it boils down to buying, upskilling or borrowing talent. The options are based on the effectiveness and bandwidth of your talent acquisition function. Contingent workforce solutions now play a key role in modern workforce strategies. It can certainly help to close skill gaps, but there are core elements that sometimes render this difficult for talent acquisition teams that are already pushed to the brink, such as regulation. Another common challenge is ensuring the permanent employees see their contingent counterparts as colleagues (and making sure the employee value proposition and employment brand for contractors and temporary workers is attractive and on even ground with permanent employees).
Unprecedented demand for talent acquisition professionals
Talent acquisition professionals are in unprecedented demand. There were almost seven times more recruiter jobs posted on LinkedIn in June 2021 versus June 2020. The number being hired from previous recruiting roles has almost doubled too. Previously, just one-third of recruiters were coming from other recruiting roles, but since the pandemic, that figure has almost doubled to reach 59%. This makes sense, as experienced recruiters can hit the ground running and don't need training to get up to speed, which is vital when a company is trying to scale. There are several reasons demand for talent acquisition professionals is so high. Firstly, a large number of talent acquisition consultants were laid off last year as many companies froze hiring during the pandemic because of uncertain market conditions. Secondly, it's a simple case of supply and demand. Because the jobs market has millions of open vacancies, it's only natural that talent acquisition consulting professionals would be in high demand as they can help companies find the talent they need.
Why a long-term approach to talent acquisition is business-critical
The fact that demand for talent acquisition specialists is so high suggests that many companies don't (or, at least, didn't during the recent downturn) consider talent acquisition in the long-term. During periods of uncertainty, whether an economic downturn or global pandemic, organizations often make layoffs to reduce expenses. This is often a knee-jerk reaction that may be avoidable. We know that one of the reasons for the severe shortage of recruiters is because many were laid off during the pandemic, but now those organizations are scrambling, desperate to scale up – and they can't do that without a robust talent acquisition function. Demand has been, and continues to be, unleashed at a frantic pace. Companies that took a long-term view of talent acquisition and kept employees in place are in a much better position than those that merely focused on the short-term. Put simply, they have a competitive advantage because they can hire staff for growth instead of playing catch-up and hiring people to replace those they laid off in the first place.
Changing candidate expectations
The priorities that candidates had pre-pandemic are no longer the same. Candidate expectations have changed – dramatically. The pandemic gave many people a chance to stop and reflect, to think about their lives and, of course, what they do for a living. We're seeing more and more people prioritize work-life balance. Millions of people worked remotely for the first time in their lives. They got more time back in their lives as a result as they cut out their commutes. Parents were happy to walk kids to school again and people felt like they could get their exercise in before logging on. More free time in general led to more happiness and enjoyment of life's little pleasures. The flexibility that remote working brings is now a key driver for many candidates. In fact, the number of job searches for remote opportunities grew by a whopping 460% between June 2019 and June 2021 and it's still going up, according to research from Glassdoor. The opportunity to work remotely or via a hybrid model, is certainly something that can not only help to attract talent, but also retain it. If you haven't already, consider offering remote working opportunities.
Another expectation of today's candidates is to have purpose in their work. Be sure to highlight just how meaningful a career with your company is. And another key shift we're seeing among candidates is the desire to learn and develop. This was a trend that we saw pre-pandemic but it's certainly picked up a gear now. Robust learning and development programs won't just help to get candidates through the door though. They will help your company to develop skills in-house that you'll need to succeed in the future.
Need to scale but don't have the bandwidth?
If your talent acquisition team doesn't have the bandwidth, it might be time to get help. Recruitment process outsourcing (RPO) providers have the built-in scale when their clients need it. They have global expertise and access to the latest, innovative talent acquisition technology that can help to make faster, better hires. RPOs also train their teams on the very latest processes and techniques, offering strategic advice along the way that will really make a difference.
RPO is proving popular. The 2020 global RPO market is estimated to have reached around $5.8bn, according to research from Staffing Industry Analysts. Although this was a drop of 7% from 2019, the organization anticipates that for 2021, the RPO market will grow by double digits, surpassing pre-pandemic levels as companies seek to rebuild their talent acquisition capabilities.
Quick question: How often do you review your strategic workforce plan?

Remember, strategic workforce planning isn't all about headcount – it's about building capabilities that align with organizational values and ensuring you have the right skills to facilitate growth. That way, when it's time to ramp up, your organization won't have to scramble for talent.
Adjusting the roles and responsibilities of the people you already have is another option. Internal mobility programs are hugely beneficial, but they do take time to develop. Talent providers can help advise on or build internal mobility programs or simply free up time for your talent leaders to concentrate on this as a strategic initiative. With SLAs and other targets in place, companies will not only see the benefits of having a talent partner immediately but will be able to show such an investment is paying off.
Top tip:
If you're considering outsourcing your recruitment to an RPO provider, ask these top four questions:
How do you define and actualize continual innovation?
Can you demonstrate the expertise of your subject matter experts?
How will you scale?
What data do you collect and what type of analysis will I get?
Getting started
If you're not in a position to consider external help from a talent acquisition partner, there are still things you can do to attract talent in what is quite possibly the most competitive talent landscape ever. Use the below tips as a starting point. Remember, it's not all about pay; be creative.
Take a total rewards approach to pay: If your organization is seeking talent, you must get creative. Taking a total rewards approach to compensation and benefits can help companies stand out from the crowd. And this is something that's important as inflation continues to rise. Not all businesses have the budget to be able to provide inflation-busting salaries or pay rises. And although compensation is a key motivator for those seeking new roles, it's not the only motivator. In the US, the No. 1 reason people want to change careers is because they want a role with a better work-life balance. More than half of respondents (56%) cited work-life balance as their No. 1 priority for a new job; a higher salary came in second, a survey from FlexJobs revealed. The pandemic has undoubtedly changed people's opinions on what they want in life and what they want from their career.
Promote your learning and development (L&D) programs: Talented employees want to learn, fact. Multiple studies have suggested the opportunity to learn is one of the top reasons why people take new jobs, so make sure your company has a robust L&D program in place. Ask your people what they want to get out if and use their feedback to make changes. L&D, like most things, is a continual process, so expect to update and improve your L&D program continuously.
Well-being programs: Promote your comprehensive well-being programs internally and externally so job seekers can see how seriously you take it. Whether it's virtual exercise sessions, money management webinars or healthy eating competitions, all can help reduce stress while improving health and well-being. The pandemic has made it more acceptable to discuss mental health with colleagues, according to 74% of respondents in a WilsonHCG survey. So, remind people how they can access your program and solicit feedback as well. There's no point in having well-being initiatives if employees aren't finding them useful.
Work-life balance: Consider launching an unlimited paid time off (PTO) program. Companies like Netflix, Bumble and the Virgin Group all offer unlimited PTO. It's a huge perk and can really help to not just attract but retain talent. We have an unlimited PTO policy here at WilsonHCG and we've seen first-hand how it can help with retention. We get such positive feedback from our people and, of course, it shows employees in a very real way that we genuinely do care about work-life balance.
Chance to make a difference: Define your company's purpose. Today's employees want to feel like they can make a real difference, so make sure it's easy to find information about your mission and purpose. The majority (89%) of career seekers think it's important for an employer to have a clear mission and purpose and one that's easy to find on a job posting, according to Glassdoor.
Quick exercise:

Think about the team you work with daily. Think about your best performer. How would you cope if they left the business? How long would it take to find a suitable replacement? That is a scenario that you would hope not to be in, I'm sure. But it is something that could become a reality. Why? Because it's a candidate-driven market out there. Never has there been such a period in which it has been so heavily in favor of candidates. Act now, before it's too late. If you don't start viewing talent as a long-term strategic initiative, you will, simply put, be left behind.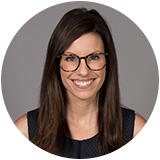 Kim Pope is the Chief Operating Officer at WilsonHCG, a global talent solutions leader that elevates the delivery of talent partnerships and transforms them into impactful business functions. A leader with an eye for innovation, Kim has played an influential role in the company's double-digit growth through numerous acquisitions and funding from PE firms over the years. She is currently featured as an expert on the Forbes Human Resources Council and was named in SIA's 40 under 40 list, a Tampa Bay Business Journal BusinessWoman of the Year honoree and SIA's Global Power 150 Women in Staffing. Kim's forward-looking perspective inspires her team to continually evolve the WilsonHCG brand and solution offerings.
Related Resources