Executive team insights: The benefits of a flexible workforce
October 1, 2018
The benefits of a flexible workforce
You may have noticed that PwC hit the headlines a few weeks ago after it launched a new flexible working scheme in a bid to attract a more diverse workforce. The accountancy giant said its new Talent Network is the result of "increasing demand from people who want to work flexibly and forgo traditional working patterns". Employees can choose a working pattern that suits them, anything from shorter hours to only working a few months a year instead of being tied into full-time contracts and standard working hours.
I'm not surprised that PwC wants to hire more flexible and contingent workers as the talent landscape has changed considerably in recent years. We're in the midst of a global skills shortage so more businesses are using flexible workforces to help close the skills gap.
So what is a flexible workforce?
A flexible workforce is basically a workforce made up of a mix of contingent workers, individuals with flexible working arrangements, freelancers and contractors. Flexible working arrangements can include everything from part-time hours, annualized hours, staggered hours, compressed hours, flexi-time, job sharing, and remote working.
Why flexible working arrangements are on the up
The contingent workforce currently accounts for up to 36 percent of the working population and if growth continues at the current rate, the majority of workers will fall into the contingent worker category within the next decade. Today's low unemployment rate is not the only reason contingent workforces have soared in recent years, some other drivers include:
Increased need for specialist and in-demand skills means companies must adapt to bring in the best talent.
Increased analytical insight provided by staffing vendors and technology has dispelled misconceptions about remote workers that have normalized their use.
Increased organizational flexibility through technology and globalization.
Flexible work arrangements benefit businesses
Increasing the number of flexible workers can help organizations attract and retain talent and has been shown to benefit the bottom line. According to the International Workplace Group's Workspace Revolution report, 89 percent of respondents believe flexible working helps their business grow (compared to 68% in 2016). And 83 percent of respondents believe flexible working helps their business maximize profits!
So why is flexible working so important to employees?
In my experience, the main reason why employees are all for flexible working is because it can massively help to improve work/life balance. In fact, according to a recent global survey by Fuze nine out of ten employees believe that flexible hours should be a workplace norm rather than a benefit.
Let's use remote working as an example. If an employee is able to work from home, it means they can ditch their daily commute saving time, money and effort. In the US, the average one-way commute is around 26 minutes, which adds up to 4.35 hours per week for employees who commute to a full-time job five days a week. Over in the UK, the average commuting time per day in England has risen from 48 minutes to 60 minutes over the past 20 years, with one in seven commuters now spending at least two hours a day traveling to and from work, according to research by the University of the West of England.
Remote working does help employees achieve a better work/life balance, and if staff are happier, they are more productive so it's a win-win situation!
Here at WilsonHCG, we understand the importance of work/life balance and this is why we're advocates of flexible working. We offer flexible working hours and have a blended workforce of office-based and virtual employees. Our employees constantly tell us that being able to work remotely is one of the best parts of their jobs. Check out our current careers blog, and you'll be able to see the benefits flexible working brings for yourself!
And if you like the sound of what we do here at WilsonHCG, why not check out our current opportunities and come and join us!
This post first appeared on LinkedIn.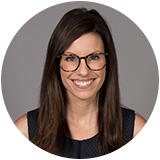 Kim Pope is the Chief Operating Officer at WilsonHCG, a global talent solutions leader that elevates the delivery of talent partnerships and transforms them into impactful business functions. A leader with an eye for innovation, Kim has played an influential role in the company's double-digit growth through numerous acquisitions and funding from PE firms over the years. She is currently featured as an expert on the Forbes Human Resources Council and was named in SIA's 40 under 40 list, a Tampa Bay Business Journal BusinessWoman of the Year honoree and SIA's Global Power 150 Women in Staffing. Kim's forward-looking perspective inspires her team to continually evolve the WilsonHCG brand and solution offerings.
Related Resources