How to optimize your 2022 TA strategy in the FMCG market
February 11, 2022
Evolving go-to-market strategies to account for changing consumer behavior is a top priority for the fast moving consumer goods (FMCG) sector. Our daily activities are increasingly being dominated by digital-first experiences. For example, shopping has become click and collect, doctor's appointments have become online consultations, and a visit to the gym is now yoga on-demand. Companies are pivoting to meet demands, with 80% of those committed to making investments and allocating resources to improve their e-commerce and shopping platforms and 60% doing so for their digital direct-to-consumer (DTC) channels, according to Deloitte.
What does that mean for you?
Digital skills, and the reliance upon them, is here to stay. And that means staying competitive by getting talent in the door who can help you deliver omnichannel experiences and disrupt through technology.
Talent challenges in the FMCG sector
The FMCG sector has experienced rapid changes from the COVID-19 pandemic. Supply chain issues present the biggest challenge, largely due to global market volatility. These challenges lead to unpredictable attrition numbers, with operational resiliency stretching to its limits. Despite unpredictable fluctuations in demand and challenges in shipping, these structural changes also present growth opportunities.
Unpredictable supply chain and attrition rates globally
The need for lower margins puts pressure on many companies to outsource, causing delays from raw material shortages and other markets outside of countries' control. Currently, from the UK is struggling to ship goods in and out due to Brexit, Germany's low employment rate and Australia's border closures, these all present blockages that result in uncertainty. And these are just a few of the many worldwide challenges that persist.
The traditional workforce that moved goods en masse are rethinking paying for expensive driver's licenses when they can get more flexible positions elsewhere (Amazon, for example). This perfect storm has caused attrition rates to soar. Strategic sourcing is now the norm as the Great Resignation rages on and workers switch roles at breakneck pace.
Exorbitant shipping prices and inflation
When it comes to delivery drivers, demand is clearly outstripping supply. Many FMCG products' limited shelf life means they simply can't be left in a warehouse, waiting to be transported when talent becomes available. Because these containers are in high demand, shipping prices are driven up as well. With such low margins to begin with, FMCG organizations are left with the difficult choice to eat costs or pass them onto the consumer. The lack of accurate market predictions makes it hard to anticipate long-term changes in talent trends and rising inflation will most certainly lead to further complications in 2022.
High volume of warehouse and logistics roles left unfilled
Because of the uptick in demand for goods during the pandemic, a dire need arose for hourly warehouse and operational roles to be filled in the FMCG sector. Severely impacted by workers leaving during the last two years, the gaping hole is further widening. Due to the worker shortage and hiring competition, companies are desperate to hire faster, and candidates expect higher compensation. The perception of hourly roles and the skills these jobs require should be reexamined to evolve with the current talent market.
Addressing the digital skillsets gap with the current workforce
Most businesses are becoming more digitally reliant. On top of hourly roles being in high demand, the lack of tech-savvy talent in the FMCG sector is creating another gap. One thing is certain: Today's talent won't be able to solve tomorrow's problems. FMCG hasn't historically been the hot industry for tech talent. Early education and internships were also put on hold due to the pandemic, furthering the lapse in learning opportunities. Developing your existing workforce is going to be essential to move forward, as is growing early careers talent pools.
Talent attracted to companies with high moral standards
People are watching what companies say and do more than ever before. Research from Glassdoor shows the majority (89%) of jobseekers think it's important for employers to have a clear mission and purpose, and it must be easy to find on a job posting. Is your interview process reflecting what it's really like to work at your organization? The discrepancy between their perception of what it's like to work for you and what it's really like to work for you will cause candidates to ghost you and employees to leave in droves.
The majority (89%) of jobseekers think it's important for employers to have a clear mission and purpose.
FMCG talent recommendations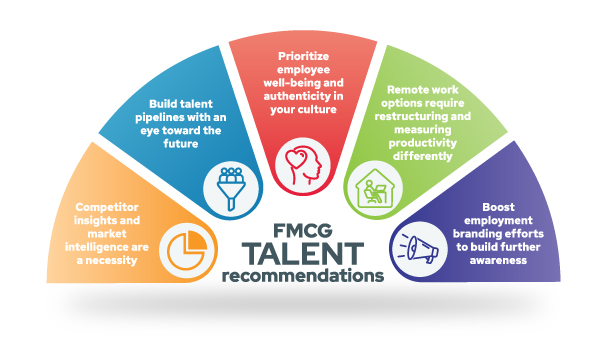 If you take nothing else away, understand the importance of being a great employer, as it directly impacts your ability to keep up with the changing market. By sharing your values internally and externally – and, most importantly, authentically – you'll attract the right talent to your business every time. Now's the time to reevaluate that employee value proposition (EVP).
[Guide] Learn more about driving business-impacting results with the A to Z of RPO
Competitor insights and market intelligence are a necessity
Understanding your hiring competition — as well as how they've evolved — is a must. Your hiring competition isn't your direct competitors; it's other markets that are vying for the workforce you traditionally attract. In the past, FMCG hasn't had to compete in product development, buyers and salespeople, but a lot has changed over the last few years. Now, it's possible to lose key FMCG talent to other industries.
In-depth market intelligence can help ensure you're equipped to handle ongoing rapid changes (whatever they may be). Data insights will allow you to strategize and make better informed business decisions. Being innovative must take center stage; a "we've always done it this way" mindset guarantees getting left behind in the world of talent acquisition.
Build talent pipelines with an eye toward the future
If the last few years have shown us anything, it's that we don't know what we don't know. To futureproof your talent pool, build pipelines that include the skills necessary for future jobs in your space. Consider upskilling existing employees so they can continue to grow in their field and with your company. Part of pipelining involves segmenting your roles into skills (rather than jobs) to gain a deeper understanding of how you can leverage talent in your future state.
Prioritize employee well-being and authenticity in your culture
In these last few years, industry productivity has skyrocketed. It also meant burnout and stress for many employees. It's no surprise that candidates have shifted their mindsets about what they want from their careers. A survey from FlexJobs revealed 56% of respondents in the US cited work-life balance as their No. 1 priority for a new job, with a higher salary coming in second. This makes culture a main talent attractor, as people want to work somewhere they feel welcome.
Don't be afraid to take a good, hard look at where there may be gaps in your company culture. Being aspirational on a job description may attract talent — but it certainly won't keep them. Prioritize mental health and well-being in your EVP. Show you genuinely care, and talent will take notice.
56% of respondents in the US cited work-life balance as their No. 1 priority for a new job, with a higher salary coming in second.
Remote work options require restructuring and measuring productivity differently
According to a recent Forrester report, "One-third of first attempts at 'anywhere work' simply won't work. Attrition at these firms will rise above industry averages, with monthly quit rates rising as high as 2.5% for as much of 2022 as is needed until execs feel the pain and finally commit to making hybrid work... work."
Abandon the thought you have about "normal" work. Employees want hybrid work models. Organizations that are waiting for this to pass will miss out on talent looking for new opportunities right now. Instead, be proactive on reframing what your new work model will look like moving forward. While remote work isn't possible for all in this sector, it's about embracing flexibility in other ways. Consider more project management roles and how that support structure will provide organization across departments and help measure productivity. Doing this now will differentiate you as an employer and be key in your future talent attraction strategy.
Boost employment branding efforts to build further awareness
At some point, the market is going to slow (even though it doesn't feel like that now). And your employment brand will be left standing. It's important to examine how you attract, hire and treat every segment of talent in your organization, including full-time employees, hourly workers and contractors. Not only to see where you have lapses or dissatisfaction but to keep your top performers happy and engaged. Don't discount the importance of retaining existing talent, as this boosts employee referrals and word of mouth about working for your company.
The FMCG market will continue to face talent challenges, but a holistic approach to your talent strategy will give you a roadmap to recovery. Maximizing the candidate experience, improving company culture and socializing your employment brand will mitigate the elements out of your control, such as attrition and supply chain. With the right talent at the right time, anything is possible. Solve for people – and the rest will follow.
Overcome your manufacturing recruitment challenges
Learn why partnering with a talent solutions provider delivers engineered success in manufacturing.
Stewart is the vice president of talent operations at WilsonHCG. He has years of expertise managing and delivering complex, multi-region technical talent solution programmes for international clients across EMEA, NAM and APAC. Stewart is passionate about delivering talent programmes that make a marked difference to the talent agenda and developing teams to reach their full potential.
Related Resources