How to make digital transformation successful
May 24, 2021
See the bottom of this post for an infographic summarizing key points!
The COVID-19 crisis has fast-tracked digital transformation within most organizations. In fact, 85% of CEOs agreed the pandemic has significantly accelerated digital transformation, according to a recent Fortune/Deloitte CEO Survey. For many, bringing forward digital capabilities was business critical. For example, businesses had to shift to remote working overnight, while others had to suddenly revert to online sales models. And digital transformation programs haven't just been prioritized, the timescales for completion have also been condensed by several years. This has left companies a simple choice: go digital or bust.
Digital transformation: Where to start
Digital transformation has many reported benefits including increased productivity, reduced costs and greater efficiencies. But, digital transformation is not without risk. Before embarking on a digital transformation program, you should carefully consider the risks associated with the program rollout, along with the risks if you delay it. You also should think about whether your organization has the talent it needs to successfully plan and execute a digital transformation program.

A typical digital transformation program lifecycle usually starts with a well-defined business goal or objective, alongside a detailed digital audit of current operational processes. Once completed, this would lead to a reimagining of the core business functions. The first task is to determine exactly what digital transformation would mean for your company. Remember, every business is unique – no two digital transformation programs are the same. What worked for one company, may not necessarily work for another.
5-minute exercise: When considering digital transformation, ask yourself:

- Why has your organization decided to launch a digital transformation program?
- What's the timeframe for digital transformation? Is it urgent? Does it need to be fast- tracked?
-What value will it have?
-How long will it take to see a return on investment (ROI)?
-Do you have the talent to successfully execute a digital transformation program?
Talent requirements
One of the most-cited barriers to successful digital transformation programs is talent shortages. In fact, 86% of organizations consider talent shortages as a key barrier to achieving outcomes in digital transformation, according to Everest Group. Digital skills have always been in short supply and digital transformation programs can't move forward without the right talent in place first. If the existing workforce lacks the technical skills required, which is often the case when you consider the pace of technological change, reskilling could be an option. But this takes time.

If you do have the right tech talent in place, you'll need to make sure you make them aware of your plans for digital transformation sooner rather than later. Attrition rates are notoriously high for those with digital skills, but the chance to work on a new project might be something that helps persuade them to stay. It provides the opportunity to gain new experience.
Why strategic workforce planning is important

A company may not know exactly what people it needs in the next three months or five years, but a business typically knows what product or service offering it's looking to provide in this timeframe and there's where strategic workforce planning (SWP) comes in. It allows an organization to determine whether it has the talent needed to meet business needs both now and in the future. And this includes digital transformation. Strategic workforce planning can assist talent acquisition teams in making decisions about whether it's best to hire full-time, permanent professionals or contingent workers, or upskill their current workforce. This ensures a constant supply of suitable candidates for continuity of service, which is especially important during times of change.

Gaining visibility on both the macro and micro trends that impact your internal and external talent supply chain is vital. Examples of this include the emerging talent pipeline, aging population, mobility trends, skills gaps, technology advancements, shifting economic drivers and convergence – all of which provide critical insights into SWP. Once harnessed, these insights can be leveraged to create the environment for your business to thrive rather than just merely respond.

Top tip: Conduct skills inventories and skills gap identification audits

Skills inventories allow organizations to determine if they have the skills needed to support their objectives and are especially important if a company is planning a digital transformation project. For example, if a company doesn't have the digital skills needed, it can upskill employees, move employees within the business (internal mobility), acquire new talent, hire contingent workers, implement a graduate program and so on. Such decisions require collaboration with talent acquisition and finance teams to determine if the budget to acquire new talent and/or develop it by implementing extensive learning and development (L&D) programs is available.
Digital transformation strategy

When it comes to implementing digital transformation, process optimization is important. The aim is to transform transactions and data utilization through core technology systems to make day-to-day tasks easier and more streamlined – rather than implementing technology for the sake of it.

HR tech is the nucleus to efficient business operations and having efficient technology systems enables businesses to perform and grow. That same principle applies to talent acquisition technology. It needs to be optimized on a continual basis to ensure it's effective and delivers results.

If HR and talent acquisition technology at an organization is ahead of the curve, it can prepare you for the years ahead. On the other hand, neglecting to invest in the right tech could have a direct impact on the future success of businesses. It's also essential to keep in mind that technology itself is not going to be the solution. Maintaining a human element in partnership with technology is key.
Leverage data effectively

Human resources and talent acquisition teams have been collecting masses of data for years, but some are continuing to miss out on valuable insight that could transform their efforts. The rise of intelligent technology means organizations are better able to leverage data more strategically and is another reason why many companies opt for digital transformation. It provides the opportunity to collate data from several recruitment technologies, alongside any market insights tools, into comprehensive, user-friendly dashboards. The data can then be compared to market trends, demographics and other insights to create an advanced overview of talent solution performance and anticipate market shifts that may have an impact on future talent strategies.
What's involved in making digital transformation successful?

Have you established a clear goal that's aligned with your overall business strategy? Yes/No
Think about how, as a business, you're going to achieve your objectives through this digital transformation project.

Have you engaged key stakeholders to get buy-in? Yes/No
Digital transformation impacts everyone within an organization – from the C-suite to employees of all levels. You need support from everyone to make it happen and there should be constant, transparent communication about changes happening. Change management is an important part of the process.

Have you broken the process into stages? Yes/No
Keep things simple. Don't overcomplicate things by trying to do too much too soon or all of it at once.

Have you reviewed and optimized your tech stack? Yes/No
Technology stack options today are limitless, and organizations often don't set aside the time to properly evaluate and select an ideal technology stack to optimize their processes – but it's worth the effort. The same notion applies to talent acquisition and HR technology. There are so many platforms out there that can help talent acquisition teams make faster, better hires, but technology should support the full end-to-end hiring process rather than the other way around.

Want to learn more about how to make HR technology work for your hiring process? Access our guide here.

Have you prioritized the stages based on business impact? Yes/No
Start with ideas that are high impact and minimal effort as this will help get everyone on board. They'll get to see the changes and improvements in efficiency.

Have you been assessing what you're doing and the impact of the technology and/or processes you're implementing to verify you're achieving maximum ROI? Yes/No
If things aren't working as well as anticipated, pause and tweak if you need to. Agility is key.
Be dynamic
Digital transformation projects should be led by a systematic, data-driven methodology that is dynamic enough to change with the business roadmap. Digital transformation has grown in popularity for many reasons, but the pandemic has accelerated take-up as organizations take stock and react to changing market conditions. Neglecting to invest in the right technology could have a direct impact on the success of your business. And that's why digital transformation considerations should be at the top of your agenda.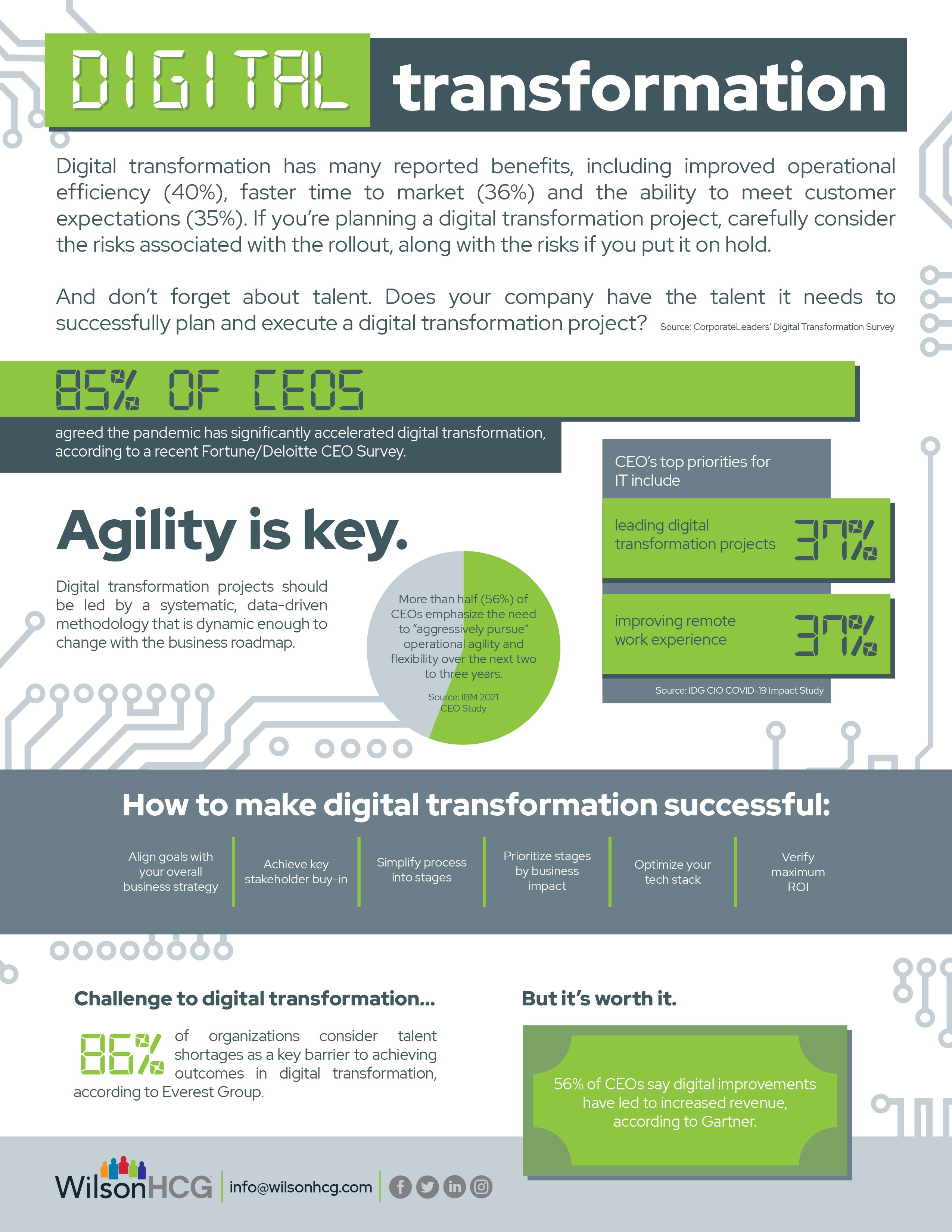 If you'd like to share this on your website, feel free to copy the embed code below:
Share this image on your site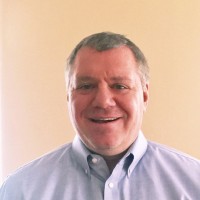 A talent acquisition and HR leader, Steven has 25+ years of experience building best-in-class recruitment solutions that support employee engagement and amplify company brand. He has extensive expertise in diversity, equity, inclusion and belonging initiatives and high growth environments building streamlined recruitment infrastructures.
Related Resources