2021 Fortune 500 Employment Branding Report overview
February 9, 2021
It's that time again! For seven years, we've looked at the current landscape and future of employment brand strategies. Priorities have shifted, and so, too, have our day-to-day lives. Gone are the days of an exclusively in-office environment, or one that doesn't live up to its diversity and inclusion promises. Candidates today not only expect - but demand - meaningful action around sustainability, antiracism and a community where they'll feel welcome.
To develop this year's report, WilsonHCG's team of researchers gathered more than 20,000 data points around the Fortune 500 to examine what emphasis is being placed around employment branding categories. As a result, we've seen a huge rise in the number of organizations building talent communities in order to anticipate hiring spikes or appropriately plan its future access to top talent.
Career advertising saw a momentous shift – creating disruption with a 50% decline from last year. (Possibly from the pulled back budgets and reallocation of priorities?) Similarly, the pullback on accolades seemed to have occurred from the inevitable hardships many successful industries endured during the pandemic. This suggests, overall, that companies opted to focus on other mission critical items versus congratulating employees when others were furloughed or laid off.
Adapting our employment brand methodology
Our report's methodology changes year over year to reflect candidate expectations and the state of the overall recruitment market at the time of research. This comes out of the constant need to evolve and improve the methodology to provide the best information.
We evaluated the following categories out of 100 points: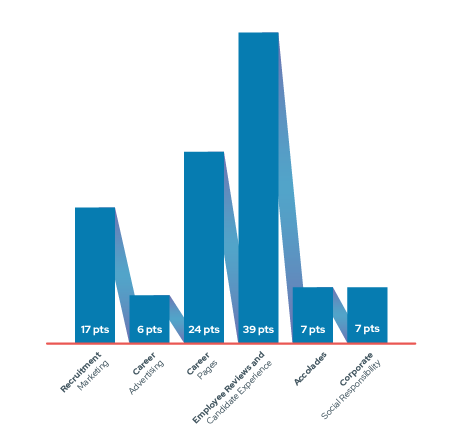 Recruitment Marketing (17 pts)
Career Advertising (6 pts)
Employee Reviews and Candidate Experience (39 pts)
Corporate Social Responsibility (7 pts)
Accolades (7 pts)
Click here to access details of the full methodology.
A new No. 1
This year, a tech company took the top spot – which isn't surprising when taking into the account the quick shift to virtual environments. There were some contenders that jumped over 200 points from the previous year's report, along with some surprising figures – including how the number of talent communities/networks doubled. We're also seeing a pattern in the data that shows when companies prioritized "people over profits" in the pandemic found success when ranked in our methodology.
To learn more, download a copy of our 2021 Fortune 500 Employment Branding Report.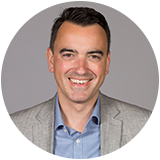 As Senior Vice President, Global Strategic Talent Solutions, Craig leads WilsonHCG's growth strategy and new partnership cultivation across the globe. Alongside the trusted consultants at WilsonHCG, he builds market-leading, scalable and customisable RPO solutions. Craig's relationships span all industry verticals and geographies with expertise in Technology, Business Services, Financial Services, Engineering, Manufacturing, Retail, and Media.
Related Resources