What you should know about UNLEASH World 2019
October 21, 2019
The countdown to UNLEASH World, one of the largest conferences about the future of work and HR technology, is well and truly on. As a regular UNLEASH delegate, I thought it might be useful to pick out some of the talks that I will be attending while I'm there and the reasons why.
Before I get started though, the one piece of advice that I have for anyone who is planning to attend the conference, which is taking place on 22 and 23 October, is to wear comfy shoes. With more than 250 speakers, 16 stages and hundreds of exhibitors, there's a lot of ground to cover, especially if, like me, you plan to cram in as much as possible during the two-day event. This year's conference is returning to Paris and will take place at the Paris Convention Centre, which is just 15 minutes away from the Eiffel Tower - handy for those who plan to squeeze in some sightseeing!
The speaker's agenda is jam-packed and features some big names in the world of HR with Wolfgang Salomon, Executive Director, Human Resources at Lenovo, Adam Yearsley, the Global Head of Talent Management at Red Bull and Jonny Sanchez, Global Talent Operations at Netflix, to name a few. There are a lot of quality speakers on the agenda this year so you'll need to choose wisely so you don't miss out! For me personally, I'll definitely be heading to the following:
The HR Technology Market Disrupted: What's coming in 2020?
This one is led by Josh Bersin, one of the world's leading HR and workplace industry analysts. He's an articulate speaker and knows HR inside out so always draws a crowd. In fact, he'll be on stage twice. He'll be covering what's coming in 2020 in his first talk on day two at 08:45 at the main stage and then for his second appearance at 14:30 on the Influencer stage, he'll be joined by Mike Bollinger, Global VP, Thought Leadership at Cornerstone OnDemand; David Ludlow, Group Vice President, Product Strategy SAP Labs; and Gretchen Alarcon, Group Vice President, Product Strategy at Oracle to discuss and debate the latest products available in HR. Every talk I have seen that features Josh has been good and I'm expecting these two to be no different!
The Evolving Role of the CHRO
Katarina Berg, Chief HR Officer, heads up Spotify's global HR, Strategy Operations, and Workplace Solutions departments and will take to the Influencer Stage at 14:30 on day one to talk about the evolving role of the CHRO. A panel discussion, she will be joined by Katelin Holloway, VP People at Reddit; Joy Xu, former CHRO, Global Head of Human Resources Sandoz; Laurent Choain, Chief People Officer, Mazars; and Lars Schmidt, Founder of Amplify. The panel is expected to cover a range of topics including HR innovation, building inclusive teams, and aligning people and organizational strategy. I think this will be an interesting discussion, especially when you consider the sheer scale of evolution in the role of the CHRO and the pace at which the role has changed over the last few years.
The Culture Map: Breaking through the invisible boundaries of global business
Erin Meyer will take to the main stage on day two at 15:40 to talk about the way different cultures influence the way we do business. If her book, The Culture Map, is anything to go by, this looks to be not only an interesting talk but also a useful one. As business becomes ever more global, the importance of understanding different cultures is now a business imperative. I still think culture is something that is overlooked - many businesses don't realize how important it actually is, so hopefully, this talk will help to highlight this topic and raise awareness.
If you're going to UNLEASH World 2019 and fancy a chat about all things talent acquisition, feel free to reach out!
Email: Craig.sweeney@wilsonhcg.com
Phone: +44 7949033050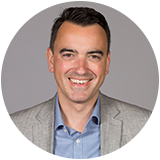 As Senior Vice President, Global Strategic Talent Solutions, Craig leads WilsonHCG's growth strategy and new partnership cultivation across the globe. Alongside the trusted consultants at WilsonHCG, he builds market-leading, scalable and customisable RPO solutions. Craig's relationships span all industry verticals and geographies with expertise in Technology, Business Services, Financial Services, Engineering, Manufacturing, Retail, and Media.
Related Resources