Transitioning from the office to a virtual setting
September 24, 2018
Introduction
I have worked for WilsonHCG for three years and three months. I was based in the Tampa office for three years before relocating to Orlando, Florida, earlier this year and I now work virtually. The transition from working in an office every single day to working virtually from home, was not what I expected it to be. At first, I was worried that I'd feel isolated and that the team atmosphere would be lost. I was unsure if I would be as productive as I am in the office too and when I told friends and family that I would be working remotely, they seemed to all share my concerns, which just made me worry even more!
The office held a going away party for me and it was very hard to say goodbye to my work family! Little did I know that I would not feel like it was a goodbye at all. I still feel just as connected to them now as I did when I was in the office. I absolutely love working from home and would like to share some tips that made the transition successful.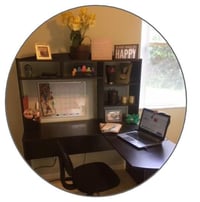 Set your day up the same way as you would in office
Get ready for the work day. Wearing professional attire helps and do your normal morning routine just as if you were going into the office!
Take breaks scheduled as normal
Try to keep the same schedule you had. So keep your normal lunch break and any short breaks throughout the day. If you keep to a schedule, you will feel as if you are still in the office.
Organize your calendar
Keep your calendar as organized as you would as if you were in the office.
Keep in touch with your colleagues
I speak to my co-workers every single day! I also try to make a point of sending a quick note to colleagues who are not on my account to keep in touch. All it takes is a quick phone call or video chat and you will forget you haven't seen them in a while!
Set your office up for success
Stay organized. Set your desk up the same way you would in the office. Do not put a TV or anything in your home office that you feel would distract you from your job. Make sure you have a stationary supply such as post-it notes, colored pens, filing cabinets, folders, etc. too.
Separate your office space from your home space
I make a point to never take my laptop out of my office. This helps to separate work life from home life. I feel it really helps me to keep a positive work/life balance as well.
Traci Sullivan is a Senior Recruitment Consultant and Team Lead at WilsonHCG. She began her career at Wilson back in June of 2015 as a Recruitment Consultant with four years of prior recruiting experience. Traci has partnered with organizations across multiple industries including Financial Services, Business Development/Sales, Cyber Security, Information Technology, Administrative, Executive Level Search, Production, and Manufacturing.
Related Resources