Stephanie Dougherty: My WilsonHCG journey
August 15, 2018
We've been speaking to Stephanie Dougherty to find out what the role of Director, Talent Partnership Integration, at WilsonHCG entails. Stephanie joined the business 12.5 years ago as a Talent Attraction Specialist and has been with us ever since, working her way up to the role of Director. She is based in Columbus, Ohio.
You joined WilsonHCG 12.5 years ago, what has your journey from Talent Attraction Specialist to Director been like?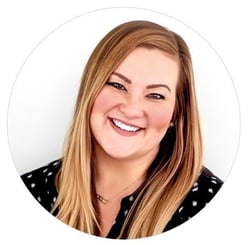 I started as a Talent Attraction Specialist supporting internal recruiters with our largest client at the time. I quickly moved into a client-facing Recruitment Consultant role. From there, I moved into Executive Search for a short period before being approached with the opportunity to help build and manage a contingent staffing arm of the business (WilsonCTS). In this role, I was responsible for building out the WilsonCTS team and processes and uncovering new clients.
After several years in that role, a new RPO client had a unique need where RPO and staffing would be integrated, so I was asked to move into an Account Director role and build out this program. It was a global account, so I got to spend a couple of months in Europe! And as an added bonus, the client was an awesome tech company so spending time in its offices was fun! I took on some additional RPO accounts and managed clients and recruitment teams for about three years.
Finally, a little over a year ago I applied for, and was selected for my role in Talent Partnership Integration, where I manage implementing new client accounts. It's been an incredible journey because I've been here when we were just starting out, and I have been able to not only witness the growth but personally contribute to it in a variety of ways… it's been very rewarding!
Describe a typical day?
I typically work with multiple clients at a time, to set the proper foundation for our partnership prior to the recruitment launch (I was surprised to learn how much goes into this; my biggest implementation so far took 20 weeks). I spend my days talking to clients to learn about their current recruitment processes, organizational structure, business requirements, technology, etc., and also their pain points and what they want to gain from our partnership. Then I work on designing a strategy to both meet their needs and help our team integrate into their business seamlessly and achieve their goals.
I also spend a lot of time with our internal teams training them on the new accounts, setting up the technology, and ensuring everyone supporting the client is set up for success!
What's the best part of your job?
I love that I get to be involved with new accounts, and be that first impression after the sales process is completed. The clients are generally excited but nervous about the change, and I get to be the one to keep the excitement up and show them that they made the right choice in WilsonHCG.
I love using my experience as an Account Director and Recruitment Operations Manager to consult with my clients during these initial stages and make an impact.
And on the internal side, I get to meet and work with so many great leaders and team members supporting the accounts as I set them up and train them. My clients and the internal teams I work with are all located over the world and I love collaborating with people from different cultures and backgrounds. I keep a list of all the fun phrases and words that I learn from people in other countries because I think it's so interesting!
Why did you decide to work for WilsonHCG?
I was fresh out of college, had recently moved to Tampa, and knew I wanted a job where I could work with and talk to people every day. Back then WilsonHCG was only a small company so there wasn't much information out there. I applied to a posting and met with the CEO, John Wilson, and the few other folks working in what was then a tiny office, and could just tell it was going to be something special!
I still remember John asking me questions that would show him what kind of person I was, and not just questions about my skills and experience (which were limited given my recent grad status!). I instantly connected with him during our conversation and felt right at home. There was no question that this was the company for me.
Do you enjoy working remotely?
I love it! I worked in our Tampa office for three years before relocating back home to Columbus, which I also loved, but I've been working from home the past nine years.
You definitely have to be self-motivated and enjoy your work to be successful working from home. There's obviously a little less socialization, which I sometimes miss since I'm quite social, but I meet that need for face-to-face interaction by doing a ton of video conferencing. I'm lucky that I've had a nice mix of home and office time because I've gotten to travel regularly to our offices and client sites over the years.
WilsonHCG has offices all over the world. How do you collaborate with your colleagues?
My role involves a lot of collaboration with our team members in Europe, which I love! I do as much video conferencing as I can so that I can see them face-to-face. Since I regularly work with EMEA clients and internal team members, I've always got my world clock open and make sure I adjust my schedule accordingly. Working from home allows me to be super flexible with my hours to accommodate.
What would you say to someone who is considering a role here?
I'd say go for it! It's such a fun place to work with so many opportunities. But be ready to put in the work in if you want to advance your career, qualify for incentive trips, and be highlighted on our monthly all-in calls.
I've really hustled and worked hard to get where I am, and I see that grit and motivation in so many people that I work with, too. It won't necessarily be easy to stand out in this crowd as a rock star but it can certainly be done if you ignite that passion and bring your A-game. You'll be surrounded by like-minded people so it should come naturally once you're immersed in our culture.
Fancy joining the WilsonHCG family? Check out current job opportunities here!
Stephanie Dougherty has been with WilsonHCG since 2005 and has held various positions in recruiting, account management and leadership within RPO and contingent solutions. Stephanie has a passion for developing talent and helping individuals find ways to leverage their strongest skill sets and grow professionally. Stephanie enjoys strategic initiatives related to developing new and innovative recruiting solutions and tackling unique challenges presented internally and by clients.
Related Resources