Professional lifehacks for recent graduates: #HireU Recap
June 2, 2016
If you're a recent graduate or a student nearing the end of your university days, you've probably had that "Now what?" moment. The thought of such a drastic change in lifestyle from student to professional can feel daunting at times, which is why the WIlsonHCG University Recruiting Committee dedicated a recent #HireU Twitter chat to the topic. During the chat, we covered a wide range of professional lifehacks, such as maintaining finances and having a social life. Below are some major takeaways.
Get the latest career-focused blogs and more by joining the WilsonHCG talent community here.
What are some successful habits for getting up and out the door in the morning?
Focus on the day at hand. Have a positive routine such as getting dressed, making breakfast and leaving home by a set time. We suggest avoiding tuning into the news or checking emails when you wake up. Not only can this bring potential negative information into your start of the day, it also could cause you to lose track of time and be late for work.
Al: Make the last thing you think of at night something you are looking forward to the next day.
#HireU

— Graham Major (@YV_Graham) May 11, 2016
How do you adjust to post-graduation financial changes?
An easy way to track your finances is by using a spreadsheet. You can create a pivot table to display items by charge so you can see where potential drains are (e.g., did I really spend $45 at Starbucks this month!?). It's especially important to calculate your monthly expenses, including any student loans you may need to begin paying after graduation. Figure out what is essential, and budget what is left for savings or enjoyment. Another easy option is to utilize a budgeting app which will help you keep up with purchases on the go.
A2: Use spreadsheets to see the bigger picture with your finances - see what is a preventable spend and what is essential #HireU

— Lucia Kindred (@luciakindred1) May 11, 2016
what are your best tips for staying social and active?
When you are working full time, it can be hard to stay social and active. A good way to accomplish both is to join a fitness group or club that meets on evenings and weekends. This way you will always have the same commitment each week on the same day which is easier to maintain than on-the-fly planning. Alumni or networking groups can also be a great way to meet new people and participate in fun events. Whatever you choose to do, create a routine you can stick to.
A3. Join a group, a club anywhere you can meet people with similar interests. Something that meets during non work hours. #hireu

— jessica johnson (@jljohnson38) May 11, 2016
How do you stand out at your first job?
As an entry-level employee, it is easy to get lost in the masses of an organization. In order to stand out and shine, you should join committees or volunteer to do stretch projects to gain new experiences! This will show your team that you are eager to get involved, and help you to be seen as a leader in the company.
A4: You are a sponge so absorb any and all information that you can! Ask questions, work on stretch projects, volunteer, etc! #HireU

— Sara Hylas (@SaraHylasRC) May 11, 2016
What are THE top tools to use in a job search?
The best tool to use when applying to and looking for jobs is your networking skills. Talking to recruiters or employees of companies you are interested in is an excellent place to start. When you have these conversations, be sure to emphasize what you can bring to the table and make them aware that you are in search of a job at their organization.
@WilsonHCGcareer A5: Tech can help you, but don't forget to contact your Professors - they may know about great opportunities. #HireU

— Juliana Nogueira (@jnogueiralondon) May 11, 2016
How do you effectively manage your time at work?
Some great practices for staying organized at work is to schedule due dates into your calendar, have a written to-do list at your desk and use your smartphone for important reminders. Using some or all of these techniques are a foolproof way to ensure you aren't missing deadlines.
@WilsonHCGcareer A6: I put everything into my outlook calendar and set a 15 minute reminder! #hireu

— Brittany Davison (@britt_ldavison) May 11, 2016
Our chat can be found on TWUBS and on Twitter by using the hashtag #HireU. If you missed this one, be sure to join us next time! The University Recruitment Committee will host a Twitter chat every month to discuss issues of interest to millennials entering the workforce. Future topics will be announced on Twitter through the @WilsonHCGcareer handle.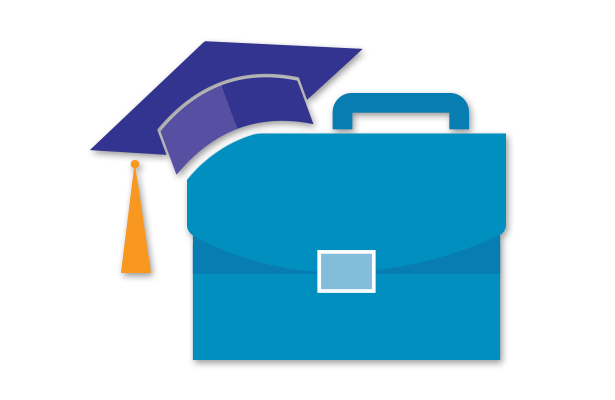 The WilsonHCG University Recruiting Committee is an employee-driven group passionate about fostering relationships between university students and employers. Committee members conduct research, maintain contact with university career services, and are part of a monthly Twitter chat dedicated to connecting students and recent graduates with professional recruiters. Beyond these responsibilities of the committee, our members help advise students on resume building, internship exploration and interviewing tips.
Related Resources