Minesh Kapadia: you have to love what you do
February 4, 2019
Minesh Kapadia is Director of Sourcing, North America. He joined WilsonHCG in 2016 as a Strategic Talent Attraction Specialist and is based in Toronto.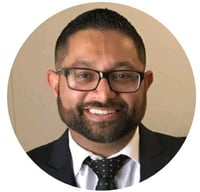 What did you do before you joined WilsonHCG?
I worked in a pharmacy for about eight years and realized that I liked working with people but not necessarily counting pills and handing them out to customers. I answered a one-line ad in the newspaper for a "healthcare recruiter". At the time, I didn't know what a recruiter was, but I knew all about healthcare with my bio background and because I had worked in a pharmacy. I responded to the ad and about an hour later, I got a call for an interview....and as they say...the rest is history! I've been in recruitment for about 16 years altogether now. I've recruited for pharmacists, sales specialists, massage therapists, students, engineers and more recently IT professionals.
How has your role changed since you started working at WilsonHCG?
I joined back in April 2016 as a Strategic Talent Attraction Specialist. A few months later I was made Team Lead and in the spring of 2017, I was promoted to Talent Acquisition Manager before being promoted to Director of Sourcing in December 2018.
What is your favorite WilsonHCG DNA and why?
My favorite one is actually all of them...but if I have to pick one, it would be PASSION. If you don't have the passion, you can't showcase the other DNA properly. Yes, you can have the other DNA traits but when you add passion to it, it makes it that much greater. You have to love what you do. When you love what you do everything else just falls into place. Shortly after I started at WilsonHCG, I was promoted to a Team Lead and as a Team Lead, not only did I manage a fairly large team but I also had a desk to run for one of global technology clients in Halifax. I would spend my working hours managing a team and interview candidates and have them go through the process with the tech client and I would spend my nights doing outreach. I did it that way so that I could give enough of my time to my team and still make sure that the client was taken care of. I did it because I was passionate about what I was doing.
Who would you most like to swap places with for a day?
There are always those cliche answers like "the president" or someone famous but I would love to swap a day with an eagle or another majestic bird. It would be amazing to see the world from above and be able to fly/soar across the skies. But if I did have to pick a person, then it would be someone like Sundar Pichai, the current CEO of Google. Google is one of those companies that just amazes me by what it delivers both culturally and physically. It would be an amazing experience to see it through his eyes.
What is a famous quote said by someone you admire?
It has to be Michael Jordan with: "I've failed over and over again in my life, that is why I succeed."
Who had the most influence on you growing up?
This would definitely be my mom, she raised me and my two older sister on her own after my dad passed away when I was four years old. Without knowing English and having much in terms of savings, she moved us to the US and raised us by working in factories and making minimum wage. I was raised by three amazing women in my life.
What advice would you give someone looking to advance into a leadership role one day?
The first thing I would say is that if you're looking to advance to a leadership role, you have to start by showing those characteristics. Show that you're willing to mentor, coach and take on projects that can show off your skills in this area. If opportunities arise, make yourself available regardless of the task. Make yourself known to other leaders around you by doing things that can highlight your leadership abilities. Get yourself absorbed in the company culture and be seen as a team player not just an individual contributor.
Check out WilsonHCG's current opportunities here.
Minesh Kapadia is Director of Sourcing, North America. He joined WilsonHCG in 2016 as a Strategic Talent Attraction Specialist and is based in Toronto.
Related Resources