5 resources to learn and reflect for Juneteenth this year
June 14, 2021
Listen. Acknowledge. Reflect. Juneteenth is the day in the US – June 19, 1865 – that officially emancipated the last enslaved African Americans in Texas. Although largely seen as a day of celebration, we must take time to acknowledge this history in a way that helps us usher actionable change in our communities. There is still much to be done, but we think a great place to start is to continue spreading awareness and education. This is part of how we can all solidify our commitment to fighting against racial injustice and inequity.
We've included some helpful resources and ideas for you to explore:
#1: Do the 21 Day Equity Challenge
The United Way of the Greater Capital Region (UWGCR) is hosting an Equity Challenge with daily prompts via text or email to inspire discussion and build more effective social justice habits. The first day starts on June 19th – and it's free to sign up!
#2: Read books about Juneteenth for all ages
Whether it's literature for you or stories for your children, Antoinette Scully's compilation provides a robust selection for readers of all ages. It's a great place to jump-start your thinking and inspire conversation. Be sure to put these on your to be read (TBR) list stat!
#3: Attend a virtual event
The National Museum of African American History & Culture (NMAAHC) is hosting free events all day Friday, June 19, and Saturday, June 20, to help families engage in history and learn ways to share Juneteenth with others. You just need an internet connection to tune in!
Also, be sure to check Juneteenth's website as it gets closer for other events worldwide.
#4: Support Black-owned businesses
Part of acknowledging yesterday is also continuing to amplify Black voices today. This list from NBC gives you many options to put your dollars toward and show your support. Follow businesses on Instagram and like, share and comment to boost the algorithm, so they are seen!
#5: Educate yourself on the holiday and history
Engage with the media accumulated by the NMAAHC – learn about the origins of the national anthem song "Lift Every Voice and Sing," as well as records, activities and more. This page from the museum is filled with valuable insights about the history, food and culture around Juneteenth itself.
What will you do for Juneteenth?
Whatever you do, stay aware about the racial injustices that continue to permeate the world. This time is for us to celebrate, reflect and take action based on our insights. Everyone's positive voices will help us come together and ensure everyone has equal opportunity and feel like they belong.
Other resources:
https://fit4mom.com/blog/juneteenth-how-to-listen-learn-and-reflect-with-your-family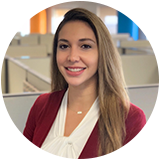 Marisol Hughes, executive vice president of people operations and general counsel, oversees WilsonHCG's people and culture function and serves as the company's chief legal advisor. She is an astute legal professional with a strong background in people and culture strategy. Her broad expertise includes corporate law, employment discrimination, and governance and civil litigation. She is an active member of the Florida Bar Association, and has been honored with the Labor and Employment Law Section Dean Gary W. Vause Award as well as being named a Tampa Bay Business Journal Top Corporate Counsel finalist. She holds a Juris Doctor degree and an MBA.
Related Resources