Embedding Diversity and Inclusion into Your Company
March 28, 2011
As a continuation of our monthly interview series, we had the pleasure and honor of speaking with the Senior Director of Talent Acquisition at one of Fortune Magazine's "Most Admired Companies." Not only is this organization the world leader in Quality of Daily Life Solutions in the U.S., Canada, and Mexico, but they are also ranked as one of DiversityInc's Top 50 Companies for Diversity.
Before getting to the interview, we have to point out a few quick facts. First, unless you can personally relate to the commercial of the guy living under a rock, you have noticed that diversity and inclusion have quickly become buzzwords within the workplace. Many organizations are stressing the importance of diversity and inclusion without completely understanding their meaning, much less what they are truly trying to accomplish. Wikipedia says that, "Diversity is the range of ways in which people experience a unique group identity, which includes gender, gender identity, sexual orientation, race, ethnicity and age." An organization's culture tends to determine the extent to which it is culturally diverse. It is reasonable to believe that in order to promote diversity, you need to actively practice inclusion. Inclusion is defined as 1) the act of including 2) the state of being included 3) something that is included. Adam Lloyd, President of Executive Search, at WilsonHCG comments, "Before a company can implement strategies for diversity and inclusion, they must first evaluate and define what diversity means to their organization. The same characteristics that make an individual diverse within one company could also make that same individual the majority at another. It's about acquiring unique experiences, points of view and strategies in order to create a rich culture."
We hope this interview can provide you with information needed to incorporate diversity and inclusion into your company's corporate culture.
Q: Your Company was ranked by DiversityInc as one of the Top 50 Companies for Diversity in 2010. This marked the fifth consecutive year that your company has been recognized and in 2009, the company went from 12th to the 6th ranked position. Can you share with us some of the things your organization did to jump up to the top two in 2010?
A: It all starts with our CEO. We have diversity goals as an organization, and it's a total company effort, not just within Talent Acquisition. Our goals are measurable and every member of our management team is tied to and incentivized by those specific goals. If you look at all of the functions within our business, you will see that everyone is on board.
Q: You were a keynote speaker at ERE's fall expo where you discussed ways to build a diverse, multi-generational workforce. What led you to this topic and what piece of advice do you have for companies looking to improve their diversity strategies?
A: I wanted to share our best practices with other companies out there looking to build a stronger presence within diversity and inclusion. My advice for other companies is to have a clear picture of where you are right now. Know exactly where you are, and where you are not. Take baby steps because it's a journey, it's progressive, and it most certainly doesn't happen overnight.
Q: How exactly do you measure the success of your diversity and inclusion programs?
A: We measure the success of our programs in several different ways. First of all, people are incentivized, so you see that they are now actively participating in employee network groups and putting themselves in situations that cross ethnic and gender lines, when they otherwise would not. Our employees take pride in these incentives and none of this happened overnight. We have goals and take pride in making our company one that weaves diversity into our culture.
Q: Where do you see diversity and inclusion within talent acquisition evolving over the next five years?
A: I think that companies wanting to be successful will have to embrace diversity into their cultures. The demographics of our country are rapidly changing. If you look at a successful organization that is not currently including diversity and inclusion, and a competitor that does – you will see that the company with strong diversity and inclusion initiatives will be the one still here in years to come. The bottom line is that companies are going to have to embrace diversity and inclusion or will suffer the possibility of no longer existing in years to come.
We would like to thank this organization for leading the way in embedding diversity and inclusion into their workplace and if you have any questions or would like to discuss ideas for doing the same, please reach out to us at marketing@wilsonhcg.com.
Author: Andrea Neal, http://www.linkedin.com/in/andreaneal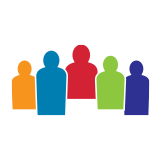 WilsonHCG is an award-winning, global leader in total talent solutions. Operating as a strategic partner, it helps some of the world's most admired brands build comprehensive talent functions. With a global presence spanning more than 65 countries and six continents, WilsonHCG provides a full suite of configurable talent services including recruitment process outsourcing (RPO), executive search, contingent talent solutions and talent consulting. TALENT.™ It's more than a solution, it's who we are.
Related Resources