[Q&A] Collaboration is one of our key strengths and part of our company DNA
July 9, 2018
Lorena Rebenciuc: Collaboration is one of our key strengths and is part of our company DNA
We've been speaking to Lorena Rebenciuc to find out what the role of Talent Attraction Specialist Team Lead at WilsonHCG entails. Lorena joined us in 2016 and is based in our Manchester office in the UK.
Describe a typical day?
Reporting is a big part of my job - building, verifying, amending and explaining reports - either from the system, manually or both, and finding improvements based on data.
I have meetings every day including account team meetings, 121s with my team, connecting with account leaders and my manager on various talent acquisition topics. I also do ad-hoc tasks and work with account leaders, my team or my manager on a daily basis.
What's the best part of your job?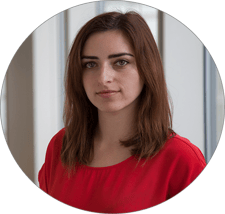 Adding value to our clients by supporting the account leaders and my team. I'm also very fortunate to work in an office full of passionate people and I love nothing more than discussing new ideas or ways in which we can help clients!
How did you get into talent attraction?
I had never considered talent acquisition as a career until I spoke with a friend's acquaintance about a role he had in his company. I found it so interesting that I decided to give it a go. If I were to name one thing that I've been enjoying from day one, it's definitely the human interaction; it keeps me engaged.
Why did you decide to work for WilsonHCG?
The interview process gave me the chance to meet one of the senior leaders and I left the meeting feeling really inspired. In fact, the whole interview process was brilliant from start to finish and I knew then that I would enjoy working at WilsonHCG due to the calibre of the team. The collaborative culture appealed to me and I knew I would fit right in! And I also had the chance to help launch and grow the company's new office in Krakow (where I was living at the time) - which was too much of a good challenge to turn down!
WilsonHCG has offices all over the world. How do you collaborate with your colleagues?
Collaboration is one of our key strengths and is part of our company DNA. It's very easy to collaborate here as we've got several platforms to facilitate it. I spend most of my time working with other people so having the latest technology is vital.
What would you say to someone who is considering a role here?
You're doing the right thing; it's a great place to work!
Do you fancy a new challenge? Why not join the WilsonHCG team. Check out our current job opportunities here!
Related Resources