Celebrating Black History Month: Meet Kyara Jackson
February 24, 2021
It's Black History Month – a time to reflect on the incredible contributions the Black community has brought both to the United States and the world at large.
In our corner of the world, we'd like you to meet Kyara Jackson, a Talent Attraction Team Lead responsible at WilsonHCG. Inspired by the many cultures she grew up around, Kyara developed a passion for diversity that she's shared with clients and helped them adopt over the years. In this interview, she discusses more about her experiences:
Q: Tell us about your journey: What led you to your current career?
A: While finishing my degree program, I was a stay-at-home mom and military spouse. I had to think about what kinds of careers would be sustainable if I had to move a lot – I thought, everyone needs HR!
When I studied human resources management, I realized as I rounded out my degree program that I was afraid of recruitment. I learned how much a bad hire would cost an organization and I knew I did not want my decisions to negatively impact whatever company I joined. With that fear to motivate me, I saw the sourcing internship with WilsonHCG online and felt this would be a great place to get uncomfortable and push past my fear. I found that I love recruiting and have been with WilsonHCG ever since.

Q: How has your cultural background influenced your professional and personal growth?
A: Growing up in the Washington Metropolitan area, I was used to seeing people of color in positions of prominence. As I entered the workforce as a talent acquisition expert, I feel that the exposure I was given and the insight I obtained helped me to see how a diverse workforce is a powerful workforce.
I grew up attending conferences with my mom as she worked as the director of diversity and community relations for a retail food company celebrating excellence in the Pan Asian, Hispanic and Latino, and Black communities since I was six years old. The stories I heard, the hustle I witnessed and the compassion I gained through the years has taught me how to live and respect not only the cultures I personally represent but the cultures I respect. This is what I bring to my role and in evaluating these things I am able to grow both personally and professionally.

Q: What does Black History Month mean to you?
A: Black History Month means an opportunity to heighten awareness that Black history is American history! It is a way to showcase how Black Excellence has had a lasting impression on everything from the appliances you use day to day in your home, to the efficiencies we take for granted when traveling the streets, and even the foundations for math, science, history and the arts.

Q: In what ways do you feel WilsonHCG can continue to help to foster an environment of diversity?
A: Over the course of my career, I have supported over 20 different organizations and have brought my viewpoint on the importance of diversity to filling roles at each of those organizations. WilsonHCG has empowered me to dig deeper with my passion for diversity – challenging me to think outside of the box to identify diverse talent and then teach others how to do the same. I think this type of encouragement is key with anyone interested in pushing that forward and should be continued.
We should also continue to consult with our clients on the importance of workplace cultural and all-around diverse employee inclusivity. Point out areas of opportunity and guide the clients through making a change.

Q: What advice would you give to young Black professionals entering the workforce?
A: Embrace what makes you unique! It can be intimidating to enter the workforce where the majority does not look like you but don't let that hold you back. It has been proven that diversity in a workplace is key to an organization's success – they need you! Speak up! Don't stifle your perspective just because it is different! This is what helps companies thrive and you will feel so fulfilled when that is recognized.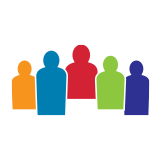 WilsonHCG is an award-winning, global leader in total talent solutions. Operating as a strategic partner, it helps some of the world's most admired brands build comprehensive talent functions. With a global presence spanning more than 65 countries and six continents, WilsonHCG provides a full suite of configurable talent services including recruitment process outsourcing (RPO), executive search, contingent talent solutions and talent consulting. TALENT.™ It's more than a solution, it's who we are.
Related Resources