6 Common questions about graduate school answered: #HireU recap
August 11, 2016
Deciding whether to pursue graduate school or not? Make an informed decision before taking the plunge! During this month's #HireU Twitter Chat, WilsonHCG's University Recruiting Committee tackled some of the most common questions and concerns people have when thinking about graduate school. Read on for advice from professional recruiters about what to consider before making a decision.
Get the latest career-focused blogs and more by joining the WilsonHCG talent community here.
How do you know if grad school is for you?
It all boils down to personal choices and reasons. All in all, grad school is great for expanding your options if you know the direction you want to go in or if you're still trying to figure out your career path. Higher education can be the stepping stone to an advancing career, or it can help facilitate a career change. Before making either decision, take time out to fully understand how much you will benefit from grad school in your desired field and what will be required from you (especially the time commitment).
@WilsonHCGcareer A1: Simply put - if you have a passion in a certain field and love to learn, grad school could be a good fit #HireU

— Dylan Cassidy (@DCassidyRecruit) July 20, 2016
How does grad school differ from undergrad?
"Going back to school" can mean very different things for an undergrad student compared to a graduate student. In an undergraduate program, you are given the opportunity to explore broader, more various fields. It allows for you to consider your interests. A graduate program, on the other hand, will cater towards a more specific discipline or career choice. You will find yourself in smaller classes doing assignments that are designed to be more challenging.
A2: In your undergrad, you are taking more broad intro classes but with grad school, it is more heavily focused on one topic. #HireU

— Sara Hylas (@SaraHylasRC) July 20, 2016
How can grad school help your career?
Grad school can help your career in many ways. One of the best things you can do in grad school is to network! You never know who you will meet and what opportunities can arise from a simple conversation. Having a master's degree can help you strengthen the career you already have, propel you for the one you want to have, or even help you transition into a different one altogether.
A3: Grad school can give you momentum up the corporate ladder and the knowledge that would take years to acquire #HireU

— Stacie L Murray (@StacieLMurray) July 20, 2016
How can you prepare to be A strong applicant?
Set yourself apart from other applicants. Pay attention to the deadlines and have a good idea of how long you want to take to complete the degree. Create a list of all the requirements and get a head start. Make sure to include prior work experience on your application rather than only academic experience. In addition, if your program requires an entrance exam (GRE, GMAT), aim high. Finally, be prepared to answer why you really want to pursue the program and why you'd be a great fit.
A4: Know the field you're applying into and be prepared to answer why you want to break into the field or get this degree #HireU

— Vanessa Barris (@VanessaBarris) July 20, 2016
When is the best time to go to grad school?
There is no best time. It varies for each and every person. One thing is for sure, though: Grad school should never just be 'the next thing to do' right after undergrad. Understand your goals and plan before making the commitment. Due to a rigorous course load, make sure you have a good idea of how much time you have to spare. A master's degree is an investment so dedicate yourself fully to get the biggest return.
@WilsonHCGcareer A5: When you want a change, gain deeper knowledge, or promotion...or all three #HireU

— Anh-My Nguyen (@amnewcreation) July 20, 2016
What are the benefits of an online program vs. an in-person program?
So now that you've decided you want to go to grad school, it's time to decide what type of program fits your style the best. Would you prefer an online program or an in-person program? There are pros and cons to each. An online program provides flexibility when it comes to a work-life-school balance. You can take classes on your own time. However, a downside will be the lack of interaction with peers. You will experience less support from classmates and limited networking opportunities! Take time to know what you want. There may even be a hybrid option available for an in-person program with some online classes.
A6: An online program gives more flexibility to balance school and work however it's easier to network in-person. #HireU

— Yesha Amin (@yeshaammin) July 20, 2016
Our chat can be found on TWUBS and on Twitter by using the hashtag #HireU. If you missed this one, be sure to join us next time! The University Recruitment Committee will host a Twitter chat every month to discuss issues of interest to millennials entering the workforce. Future topics will be announced on Twitter through the @WilsonHCGcareer handle.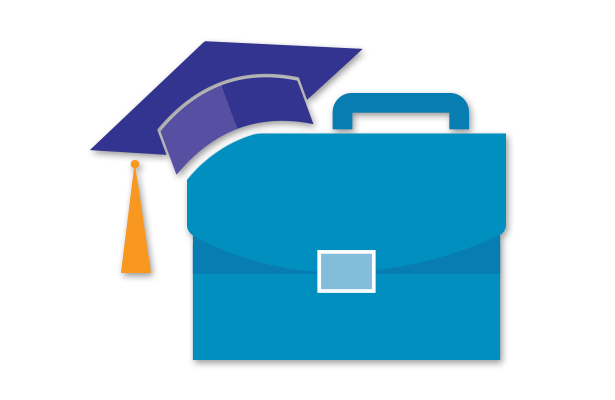 The WilsonHCG University Recruiting Committee is an employee-driven group passionate about fostering relationships between university students and employers. Committee members conduct research, maintain contact with university career services, and are part of a monthly Twitter chat dedicated to connecting students and recent graduates with professional recruiters. Beyond these responsibilities of the committee, our members help advise students on resume building, internship exploration and interviewing tips.
Related Resources