3 Must Try Mobile Apps for Recruiting
February 21, 2011
Mobile technology has changed the way the world communicates and recruiting is no exception. Over the past few years, Mobile Technology has advanced rapidly and now smartphones have made it even easier for people to connect and communicate with each other anytime, anywhere.
Mobile recruiting strategies are changing the way companies communicate with potential candidates in real time as soon as a position becomes available. With over 4 billion mobile device subscribers worldwide, companies are implementing strategies such as direct text messaging campaigns, mobile career site optimization, mobile video campaigns and mobile application development. The overall goal of these campaigns is to improve efficiency and productivity in order to deliver higher quality candidates on a timely basis. So as these mobile technologies evolve, we as recruiters must adapt accordingly or risk being left behind.
While there are a lot of applications out there and many more popping up in various forms, I have found it to be over whelming trying to decide which ones to use. Here are my three recommended mobile applications I currently use to be more effective and increase productivity from my mobile phone:
LinkedIn Mobile: LinkedIn has largely proven itself to be a valuable networking tool for recruiting because it provides access to over 85 million professionals worldwide, but LinkedIn mobile takes it to the next level. Not only can you search for candidates, but you can find contact information, post jobs, as well as send and receive invitations and messages from the palm of your hand. In recruiting, we all understand the value of timing and connecting with potential candidates quickly. This application definitely gives recruiters a competitive advantage with utilizing LinkedIn's database 24/7.
AutoSearch Mobile: This application is truly amazing! AutoSearch Mobile searches the web using a filtering technology and returns hundreds of names, profiles and resumes instantly by searching sites such as LinkedIn, Twitter, Jobster, and ZoomInfo. It gives aggregated access to prospective candidates in a one-stop shop eliminating the hours wasted searching through multiple sites. This application helps eliminate the time spent trying multiple Boolean search strings until you uncover the right resume.
Global Recruiting Roundtable Mobile: This application provides quick access to top industry news and trends in order to stay ahead in your profession and help you advance in your career. Currently, I have been subscribing to multiple blogs, industry articles and research sites to stay up to date on current events until I found this Global Recruiting Roundtable app. It provides top recruiting industry articles surrounding the topics of Employer Branding, Human Resources or Recruitment in one place. One click makes it easy to share and post these articles on social networking sites instantly.
There are nearly hundreds of different types of mobile applications and technologies accessible on smartphones these days. Other mobile apps to site are: mobile access to Twitter, Facebook, YouTube, individual company career sites such as CareerBuilder, Indeed and recruiting technology apps like HireSyndicate and Interviewer. There are many out there depending on your needs and purpose. These are just a few that I found most effective for the work I do.
What mobile technologies do you currently use in your recruiting strategy? We look forward to hearing from you.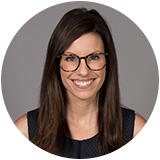 Kim Pope is the Chief Operating Officer at WilsonHCG, a global talent solutions leader that elevates the delivery of talent partnerships and transforms them into impactful business functions. A leader with an eye for innovation, Kim has played an influential role in the company's double-digit growth through numerous acquisitions and funding from PE firms over the years. She is currently featured as an expert on the Forbes Human Resources Council and was named in SIA's 40 under 40 list, a Tampa Bay Business Journal BusinessWoman of the Year honoree and SIA's Global Power 150 Women in Staffing. Kim's forward-looking perspective inspires her team to continually evolve the WilsonHCG brand and solution offerings.
Related Resources