WilsonHCG, a multi-award winning global leader in innovative talent solutions, has once again been recognized in HRO Today magazine's annual RPO Baker's Dozen list. It's the eighth year in a row the company has been honored for its exemplary partnership with its clients. WilsonHCG was one of only two providers to see an increase in client satisfaction scores.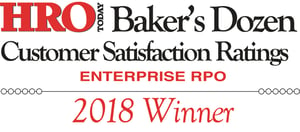 The Baker's Dozen highlights the top recruitment process outsourcing (RPO) providers on a global level and is based solely on feedback from buyers. It's one of the most distinguished customer satisfaction surveys in the RPO industry and service providers are rated on a variety of factors including size of deal, breadth of solutions, and quality of service.
"We're extremely proud to be ranked in the Baker's Dozen for the eighth year in a row. It showcases WilsonHCG's commitment to clients and is a testament to the effort that each and every one of our people put in on a daily basis," says John Wilson, CEO at WilsonHCG. "We're thankful our partners have achieved exceptional results working with WilsonHCG and this recognition demonstrates the ability we have to be able to adapt to the ever-changing talent landscape."
HRO Today magazine's rankings are based entirely on anonymous client surveys and provide a transparent view of activity throughout the RPO industry. Results are then determined by statistical analysis using a weighted algorithm to ensure the most accurate, transparent results.
"WilsonHCG is one of only nine RPO providers which have been on the HRO Today RPO Baker's Dozen Customer Satisfaction Survey every year for the past five years," said Elliot Clark, CEO of HRO Today Magazine. "WilsonHCG has an exemplary record of service, global reach and a commitment to innovation and best practice. Each year its customers reward them with extraordinary scores on the survey and they continue to be one of the top choices as an RPO provider for programs from mid-range to the largest and most complex in the world."
More information about the annual RPO Baker's Dozen can be found here.
About WilsonHCG
WilsonHCG is a multi-award winning talent solutions firm with a global footprint that spans six continents and 37 countries.
We help businesses build modern workforce programs and offer a wide range of HR solutions that span talent acquisition and talent management.
We're passionate about revolutionizing the way in which organizations think about talent acquisition because we believe that people are the most important aspect of any company. Better People, Better Business®
About SharedXpertise
SharedXpertise, publisher of HRO Today, is the leader in providing media, summits and forums that develop professional practices in the areas of corporate responsibility, human resources and financial management. Its media offerings include print and online publications; its summits are conferences and its forums offer association membership programs. SharedXpertise serves strategy-level corporate executives in the human resources, finance, compliance and sustainability professions in North America, Europe and Asia.
Contact details