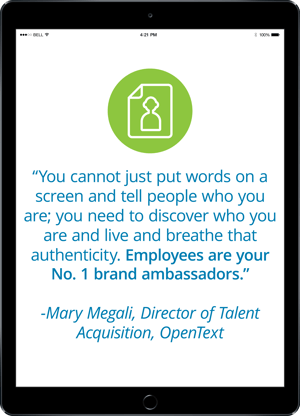 BRAND AUTHENTICITY AND CONSISTENCY AMIDST CONSTANT CHANGE
Strategic employment branding facilitates customer and business partner growth, candidate funnel expansion and employee engagement, which thereby incites greater workforce retention and performance. Many companies strive to understand, establish and promote their brand to achieve these goals, but in the same vein many are yet struggling to transition brand strategy from aspiration to reality.
Held in June 2017, the joint WilsonHCG and OpenText Enterprise Information Management (EIM) Colloquium centered around employment branding. Specifically, the "business" need for transparency, authenticity and consistency – in the midst of ever-present change – to achieve greater bottom-line competitive advantage and ROI. The following explores actionable takeaways from the conference, including thought leadership insights and first-hand experiences.
Employment Brand – A Collision of Candidate and Employee Engagement
OpenText's Personal Brand Story
During the Colloquium, OpenText Director of Talent Acquisition, Mary Megali, shared her organization's talent and brand story. OpenText began as a startup in 1991, and has since expanded to 12,000 employees across 130 locations worldwide – including North and South America, as well as the Europe, the Middle East and Africa and Asia-Pacific regions.
A global leader in enterprise technology, OpenText is Canada's largest software company and was named by the Financial Post as one of Canada's 10 Best Companies to Work For. According to Ms. Megali, OpenText's talent acquisition function has a "seat" at the executive table as a result of their talent strategies that are driving business performance and competitive advantage across the globe.
Brand in 2017: Demanding an Inside-Out Approach
Speaking on employment brand and its impact on OpenText's ability to attract and keep the best software sales talent, Ms. Megali delved into the collision of employee engagement and employment brand. As we are now in a truly innovative digital age, professionals have more outlets to be transparent than at any time in history. Candidates and employees alike are easily able to educate themselves around each job opportunity, company culture, competitive compensation, learning and development opportunities, growth opportunities, as well as mission statements and values, to name just a few.
"Talent now has full transparency into what they're worth – and what competitors are offering – and they will not only reject a job offer or leave an organization if they don't feel their demands are being met, but they will share their experiences as well."
-Paul Dodd, WilsonHCG Head of Canadian Engagement
Empower Your People
Simply stated, talent – your people – not only define but further develop and drive employment brand. To maximize employment branding efforts, organizations need to empower and give a voice to their candidates and employees. Employment brand is at its best when strategy is spearheaded from the inside (internally) out (externally).
Establishing Authenticity through Raw, Unadulterated Engagement
Employee Conversation
While compensation has and will continue to play a significant role in both hiring and tenure, talent today places as much importance on what a company stands for – for business leaders, this highlights the importance of an authentic employment brand; one that is communicated clearly, engagingly and consistently across all channels. Communicating brand is integral, yes, but the chicken can't come before the egg. Companies must first develop an employment brand from the inside out that lives what is being preached. An employment brand that instills employee engagement and authenticity will in turn inspire external employee promotion – leading to referrals, improved image, candidate and workforce motivation, retention, personal fulfillment and business growth.
Authenticity Front and Center in Today's Digital Revolution
As Ms. Megali shared, a positive "digital brand experience" can significantly influence whether someone joins your company. Moreover, an "authentic" digital presence indicates modern strategy and that companies are "present" among the digital revolution that all markets and industries are experiencing. At OpenText, their digital brand strategy is built around four unique categories:
Striving daily to build an ever-growing talent community/pipeline.





Reaching into diverse talent communities (e.g., women in tech, millennials, cultural diversity); executed through strategic content calendars for social media, scheduling based on best practices, and with audience-specific messaging to reach targeted candidate groups.





Engaging and connecting with OpenText employees; occurs daily via internal and external social media platforms, always presenting the win-win (employees building their personal brands while promoting the company's employment brand) for getting involved.





Refusing to grow complacent in being a "Best Place to Work"

–

according to Ms. Megali, awards are important because they show candidates what you stand for, but they also hold companies accountable. When emblazoning a top workplace award on the company website, organizations have to continuously earn this achievement day after day; failing to live up to earned awards will be noticed (and shared) by candidates and brand ambassadors.
In the Americas, for example, OpenText's LinkedIn company page plays an important role in their digital brand efforts. Here they provide and promote a high level overview of the organization, available jobs, various company photos and events, their commitment to diversity, as well as employee perspectives (e.g., career journeys, a day in the life, the fun of "working hard and playing hard"). Overall, digital media provides OpenText with a platform for sharing the greater workforce story while likewise giving employees a voice to share their personal stories, resulting in unique, organic and authentic brand growth.
Establishing "Living and Breathing" Buy-In from Key Stakeholders
Define Your Stakeholders, Establish Their Purpose
To engage key stakeholders, Ms. Megali shared how it's important to first define who the stakeholders are then establish the intended outcome for involving them. At OpenText, their key stakeholders for branding purposes includes talent acquisition, HR leadership, hiring managers for sales positions, sales leadership and marketing, among a few other parties.
As Ms. Megali explained, it's not necessarily challenging to achieve buy-in for employment branding, but rather getting each party to "live and breathe" the company's brand; to truly stand for what the organization is preaching on a daily basis across 130 locations and multiple regions. She emphasized the need to coach stakeholders on both living and sharing the brand message, and its impact on talent acquisition and talent management. The collective presence, messaging and actions of a company's brand ambassadors and key stakeholders is important, if not more so, than the organization's overall presence, messaging and actions.
9 Steps to Optimize Your Employment Brand
As shared and discussed during the Colloquium:
Leadership and Hiring Manager Engagement, Buy-In.

First, leadership needs to set the example. Not merely understanding the importance of strategic employment branding (authentic, transparent, accountable), but openly committed to "living" the employment brand. Candidates, employees and business partners know your brand, and they will likewise recognize disingenuous, fake representation of it by your workforce.
Defining the Strategy: Purpose and Goals.

Before employment brand efforts, updates or evolution can begin, the strategy first needs to be defined. Answer the following questions: what challenges need to be overcome, what goals are you trying to achieve, and who is your targeted audience? In brief, define what will indicate success and failure of your campaign(s), then begin the effort.
Establish and Alway Build Your Digital Presence.

As of early 2017

, Facebook has nearly 1.9 billion active users, LinkedIn has 467 million users and Twitter has approximately 317 million active users. However, Instagram "dominates" when it comes to interactions per 1,000 followers (between 50-70), including 600 million active users overall. Ultimately, what this means, social media is the third most leveraged source for quality hires, just below employee referrals (which often happen via social media) and job boards (of which social media platforms technically are). Develop your strategy, get on social media, and strive daily to authentically build your presence, both internally and externally.
Invest Your Time and Finances in Tools, Campaigns and Ads.

Don't just push out content; think strategically about who you're trying to reach and what response or action you're trying to gain. Build timely, relevant campaigns around hot button issues and region-specific trends. If you don't yet have the financial budget to build ad campaigns, at least be certain you're investing the time to achieve positive change.
"When I walked in we had a budget of zero … We did research, research and more research on what [social media] mentions to use, what hashtags to use, how to make our social media channels grow, and what content resonates with people."
-Shaunda Zilich, GE Global Employment Brand Leader
Provide More than Job Opportunities – Include Interesting and Relevant Content.

Thought leadership is appreciated and often sought after. All people – candidates, employees and business partners – seek credible insight from credible sources. Share exciting events and campaigns taking place at your organization, but beyond that share interesting content from external sources, thought leaders and industry peers. This can start two-way conversations, establish your organization as a go-to for important content/research, and shows all audiences your efforts go beyond self-serving.
Company Partnership with LinkedIn.

In addition to the research shared in No. 3 above,

the use of LinkedIn company pages grew by 33 percent in 2016. LinkedIn is free, incredibly easy to use, and literally everywhere. LinkedIn, recruitment and brand ambassadorship are synonymous in 2017; get on board and seek out partnership opportunities to maximize your branding efforts. For example, follow other pages, take out targeted ads, and strive to build talent communities that keep "warm" (engaged, coming back for more) both active and passive talent.
Identify "Hiring Problems" and Respective Solutions, Then Act.

As with No. 2 above, deep dive into your talent acquisition challenges – can they be solved with more engaging, accurate job descriptions, do they relate to a poor social media and online presence, are your compensation offerings far below market value causing both active and passive candidates to turn away? Evaluate the current state of your talent strategy, then explore steps to overcome them; from here, integrate and align these talent-specific strategies with your overarching employment brand efforts.
Partner with Marketing.

The marketing and talent strategy lines are going to continue to blur. According to Shaunda Zilich, GE's Global Employment Brand Leader, "Companies will start to respect employment brand as much if not more than company or consumer brand. Business leaders are going to realize employment brand has a great impact not only on finding and keeping top talent in order to have and provide the very best products and services, but also … 'If I don't take care of my employment brand, my corporate brand doesn't mean anything.'" Companies need to partner with marketing to tell their employment and consumer brand stories, to make certain go-to-market strategies are aligned organization-wide, and to achieve maximum outreach.
"When you think of employment brand today, in a world currently in the midst of an industrial and digital revolution, we need to be part of telling our people's stories."
-Shaunda Zilich, GE Global Employment Brand Leader
Measure Success, Demonstrate the ROI.

At GE, talent acquisition sees upward of 15 touches before a candidate applies. Companies need to figure out what 15 touch points make the most difference in a candidate's decision (e.g., referrals, job boards, benefit exploration, culture, compensation), what the most enticing points are that draw candidates in and compel them to reach out. Uncover the touch points and measure them to show leadership the business impact of brand efforts, and to show employees the win-win behind becoming a brand ambassador.
"If candidates see positive employee and candidate experiences on review sites or in communication with peers, they feel more confident submitting their resume and making a career move."
-WilsonHCG 2017 Fortune 500 Top 100 Employment Brands Report