Is your talent acquisition a revenue generator?
July 21, 2021
This post was originally published in 2018 and has been updated for stats and relevancy.
Talent acquisition should be viewed of as more than an investment — it's a revenue generator. People are your No. 1 asset, and without them, your business simply wouldn't exist.
Investing in talent acquisition: A closer look at Google
So how much does your business invest in talent acquisition? Have you ever thought about doubling it? That's what Google does. It spends twice as much of its people budget on recruiting than the average company. Laszlo Bock, former Senior Vice President of People Operations at Google, said that being able to better select people upfront meant that there was less work to do once they were hired. Bock transformed the internet giant's talent acquisition function during his 10-year stint with the company, hiring thousands of people and winning numerous awards along the way.
Its investment in talent acquisition certainly paid off! Google (or rather its parent company Alphabet Inc.) has a market cap of more than 1.7T (£1.2T) — having exceeded the trillion-dollar market cap over the last few years. It isn't surprising when you consider that its revenue surpassed the £130B (£95B) mark last year.
The tech giant also frequently leads best place to work polls and currently tops the CareerBliss 50 Happiest Companies for 2020 and is fourth on Glassdoor's 2021 Best Places to Work list as voted for by employees.
And it's not just Google that reaps the rewards of investing in talent acquisition. Companies with high-maturity talent acquisition functions exhibit 18% higher revenue and 30% greater profitability compared to firms with low-maturity talent acquisition performance, according to Deloitte's Bersin.
Talent acquisition, however, is about much more than finding the right person for the job. It touches all aspects of a business and is about looking to the future and strategically planning ahead so that you have the right employees to meet your goals and hit your targets.
In today's tight talent market, some businesses simply don't have the time or resources to make the best investment decisions — but that's where partnerships come in. A talent acquisition partnership can truly transform a business because it can offer value on the things that many internal talent acquisition teams simply can't invest in such as technology research and expertise, scalability of resources, and data and analytics.
If you want talent that makes your business better, investing in talent acquisition in a smart way is vital.
Talent acquisition partnerships drive revenue
Strategic talent acquisition partnerships bring so much to the table. Let's use candidate experience as an example as many businesses massively underestimate it. It's baffling when you consider that it can make or break your business. It's a candidate-driven market out there so applicants really do hold the upper hand. They can afford to pick and choose and the consequences of a poor candidate experience are about much more than losing a potential candidate. Ultimately it impacts the bottom line.
According to a survey from CareerPlug, 50% of respondents declined a job offer due to poor experience during the hiring process. It's all there, in black and white. Poor candidate experiences lead to a potential loss of revenue, referral networks will be negatively impacted and talent pools will shrink as a result.
How this affects the skills shortage
And let's not forget about the global skills shortage, which only highlights the importance of talent acquisition. An alarming number of CEOs in Europe and North America are "extremely concerned" about their ability to fill key tech, sales and engineering roles — as a result of the global skills shortage. The market is very much candidate-driven and the aging population and declining birth rate mean it's going to continue to be over the coming years. Employers have to work a lot harder to find and attract talent. This is where partnerships come in.
Talent acquisition partnerships benefit all businesses, even those that already have in-house functions because they provide in-house teams with the bandwidth to successfully execute their strategies. It's clear human capital and their well-being has become high on the agenda for many employers since the COVID-19 pandemic. Well-being is a top-ranked trend and mentioned as important or very important for more than 80% of survey respondents in Deloitte's 2020 Human Capital Trends study. The policies around workplace safety, remote positions and mental health have all prioritized human capital and their happiness permanently in order to retain top performers as the skills shortage continues. To help with this, external partners also facilitate internal teams securing executive buy-in for well-being initiatives because they can share data and real-life success stories that internal teams may not have. The whole point of a partnership is to work together and pool resources and skills to get the best possible outcome.
Don't let your business fall behind. Act now to ensure you have a strong workforce, both now and in the future.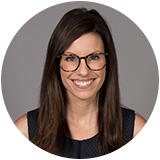 Kim Pope is the Chief Operating Officer at WilsonHCG, a global talent solutions leader that elevates the delivery of talent partnerships and transforms them into impactful business functions. A leader with an eye for innovation, Kim has played an influential role in the company's double-digit growth through numerous acquisitions and funding from PE firms over the years. She is currently featured as an expert on the Forbes Human Resources Council and was named in SIA's 40 under 40 list, a Tampa Bay Business Journal BusinessWoman of the Year honoree and SIA's Global Power 150 Women in Staffing. Kim's forward-looking perspective inspires her team to continually evolve the WilsonHCG brand and solution offerings.
Related Resources