Questions to ask when considering an RPO partnership
April 15, 2021
This blog was originally published in 2018 and has been updated for stats and relevancy.
In my role, I have the privilege of speaking with heads of talent across an array of industries and geographies. The challenges they encounter, while unique to each organization, have common and connecting threads.
Specifically, when meeting with leaders who have or are engaged with a recruitment process outsourcing (RPO) provider, there is collective agreement among these common themes to ask about in order to drive business objectives: innovation, talent acquisition expertise, hiring scalability, and proficiency in data and analytics.
Of note, RPO providers champion forecasting trends, handling change and pivoting solution and delivery for clients (especially true during the pandemic). RPO providers make many promises and, encouragingly, most deliver. However, research shows too many customers enter into multi-year partnerships without knowing how to carefully evaluate whether the elements they've been promised are being met. With the global RPO market being forecasted to reach $20.8 billion by 2027, it's especially vital for customers to truly understand the quality of their partnerships.
Throughout this article, we explore a combination of the "promises" being made, the questions you need to be asking to ensure these promises are becoming reality, how RPO as a whole has evolved, and what a market leading RPO program really looks like. Let the following serve as your toolkit:
Defining and actualizing continuous innovation
According to NelsonHall's 2020 Evolution of RPO report, 73% of organizations will seek tech/tools advice from their RPO provider (wholly or partially). To innovate, clients seek guidance from RPO providers on improving their tech function and everyday processes. Further, according to an HR executive we spoke with, "I'm sick of hearing about RPO and innovation! Innovation is too often used to mask an inability to execute basic fundamentals." For many, the challenge is confusion around the definition of innovation.
In brief, innovation must be unique and different within every RPO partnership.
For one organization, innovation looks like introducing cognitive recruiting and AI technologies to take over the basic, time-consuming tasks of sourcing candidates – thereby freeing up recruiters to focus on building personal relationships. For another, it meant the RPO team working closely with leadership to develop ideal candidate profiles for specific locations; the RPO team then creating a strategic sourcing and communication plan by analyzing historical data, market intelligence, as well as supply and demand – bringing precision, confidence and efficiency to the search and engagement strategy.
For a multinational professional services and consulting firm headquartered in EMEA, with 14,000+ employees across 42 countries, innovation took the form of an entirely new talent acquisition structure supported by technology. WilsonHCG introduced scalable, specialized sourcing capabilities, supply and demand analysis, as well as market mapping across each of their office locations for engineering, design, project management and consulting roles.
Additionally, WilsonHCG's creation of a talent community supported by a newly implemented candidate relationship management (CRM) tool is now underpinning an ambitious diversity and inclusion strategy. These "innovations" have created more strategic business partnering, a proactive and sustainable approach to talent acquisition and the expertise to align talent processes with revenue generation.
Wherever you fall on the spectrum, your RPO provider should consult with you to understand and define what innovation means to your organization. Innovation is a journey of continuous improvement and transformation; it's proactive, refuses complacency, and creates sustained talent acquisition success whether you remain with your provider or depart following a contract.
Questions to ask your RPO provider around innovation:
What does "innovation" mean to you in partnership with our organization?
In what ways has your team set our organization up for long-term success should we choose to bring processes in-house or look elsewhere?
In what ways have you introduced innovation to our organization? How are we differentiating from our competitors and your competitors?
Subject matter expertise, recruiter quality
According to NelsonHall's 2020 NEAT report, the top reasons organizations from across the globe choose RPO partnerships include:
Scalability and flexibility around solutions
Time-saving tools and automation
Delivering great candidate experiences
Improved speed-to-hire (i.e., better talent, faster)



Each of these can be contributed to the quality of recruiter your RPO partner brings. Whether you're seeking software developers in the heart of London, Berlin or Prague, or undertaking an executive search across Europe with the need for relocation, your RPO recruiters should be equipped with market intelligence, experience in your industry, and the confidence to consult (bringing with them the recommendations you need to make an informed decision).
The promises made by RPO business leaders are only as effective as the teams delivering the solutions. High-quality recruiters and subject matter experts (SMEs) will not only deliver great hiring results, but will also enable an organization to achieve their strategic objectives – whether that includes future-forward and proactive talent acquisition initiatives, streamlined process management that incites greater efficiency, improved diversity and inclusion in recruitment, or any number of other key objectives. When your RPO promises "expert" recruitment teams, dig deeper.
Questions to ask your RPO provider around subject matter expertise:
Can you "show" us the subject matter expertise of your recruitment team?
What training do you have in place, either regionally or globally, to ensure the continued growth of your recruiters?
In the face of high demand, low supply, how can your recruiters find the right talent beyond what other talent providers can provide?
If your recruiters are located in a different country or continent, how do they have local expertise in our region?
Scalability aligned to your business needs

All businesses have times of increased need, such as the launch of a new product or service, or a global growth initiative. Seasonal operations, such as retail businesses or hospitality, for example, experience periods of rapid growth and therefore have a major focus on hiring. One of the specific components of an agile partnership is the RPO's ability to scale resources with hiring volume fluctuations when and where needed.
While RPO engagements provide dedicated resources to your account, there should also be a utility bench of skilled recruitment professionals who are trained and prepared to supplement your team at times of immediate scale need. This eliminates the necessary ramp-up time when dealing with a spike in hiring, which improves time-to-fill and leads to a higher quality of hire. In addition, to support and ensure your ability to scale, RPO providers often promise strategic process design, ATS improvement, hiring manager training and various technologies.
Questions to ask your RPO provider around scalability:
If faced with an unexpected growth initiative, how will you scale in a given region?
Do you have an available, qualified "bench" of resources should we be hit with immediate need to scale?
How will new recruiters added to the team ramp up in a timely fashion, and get to know our organization?
What tools do you have in place beyond "people" and how will they be leveraged to ensure we meet our targets?
Data and analytics: Telling your "story"

Having data to support your recruitment decisions provides full transparency, accountability and peace of mind that you're on the path toward improvement. RPO providers understand this clearly, and vow to bring a team of business analysts who will integrate an analytics program that precisely informs your current processes and performance, then guides your company toward becoming a best-in-class talent acquisition program. Your RPO provider should be working hard to help you leverage internal and external data to support all talent and business-related decisions. They should also recognize the "story" behind the numbers.
For example, knowing how long a job stays open is still important – however, truly understanding the candidate experience and its impact on your business is even more critical, especially with advancements in social media and review websites being more prominent. Companies can no longer afford a poor candidate experience, as it has exponential impact. (That's revealed in WilsonHCG's 2021 Fortune 500 Top 100 Employment Brands report.)
At WilsonHCG, we monitor the candidate experience by tracking how long a candidate spends in the recruitment process from initial outreach to start date. We breakdown how many calendar days lie between each stage, and when we see delays, we look at candidate fallout and identify trends. We may find that candidates are spending 30+ days interviewing in a competitive labor market, and that the No. 1 reason they're withdrawing from an opportunity is because they received an offer from another company over this period of time. This enables us to consult with our clients, as well as recommend the business need for a more timely interview process and ways in which the process can be improved upon.
Ultimately, HR metrics and recruitment analytics are the foundation for change. Great stories can be told based on data, stories that inform important business decisions. As you weigh the performance of your RPO provider or evaluate potential partners, make certain you're being told, precisely, the story behind the data. Data and analytics must be a two-way conversation.
Questions to ask your RPO provider around data and analytics:
We want to enter a new market, but need insight into the region's labor market and how our competitors are performing. In what ways can you help in this area?
What trends might predict/inform what we can expect in the months ahead?
Can you walk us through a scenario where you leveraged specific data to decide whether a candidate was worth moving forward with?
Do analytics fail to tell the whole story? If so, how do you make decisions?
For further insights, our whitepaper 4 Promises talent solutions providers must keep provides a look at the current RPO market, what providers promise and what clients seek most from their partners.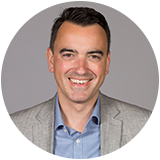 As Senior Vice President, Global Strategic Talent Solutions, Craig leads WilsonHCG's growth strategy and new partnership cultivation across the globe. Alongside the trusted consultants at WilsonHCG, he builds market-leading, scalable and customisable RPO solutions. Craig's relationships span all industry verticals and geographies with expertise in Technology, Business Services, Financial Services, Engineering, Manufacturing, Retail, and Media.
Related Resources